Los Nombres De Dios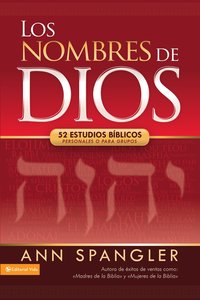 ¿Qué tiene un nombre? Los nombres de Dios: 52 Estudios bíblicos personales y para grupos ofrece un método exclusivo de estudio Bíblico mediante un estudio de 52 semanas en el que se destacan los nombres y títulos de Dios y de Jesús, habiendo sido elaborado para ayudar a los lectores a experimentar su relación con el Señor de una forma más fresca y profunda.Mediante el estudio de nombres tan excelentes y variados como Adonai, El Shaday, Yeshua, Cordero de Dios, Príncipe de Paz, los lectores descubren a un Dios que es completamente santo, poderoso, asombroso, misericordioso, y cariñoso. Cada estudio semanal incluye: * Información de contexto que ayuda a los lectores a entender el nombre * Un pasaje central de la Escritura en el que se reveló el nombre por primera vez o donde adquirió mayor transcendencia * Una serie de preguntas para estudio en grupo o a nivel personal * Una lista de pasajes bíblicos para una reflexión más profunda.Basado en los libros Orando los Nombres de Dios y Orando los Nombres de Jesús pero con preguntas de estudio y reflexión adicionales, este exclusivo estudio bíblico ha sido diseñado para ayudar a individuos y grupos a investigar los nombres y títulos más importantes de Dios según los revela la Biblia. También incluye una útil guía de pronunciación para los Nombres de Dios en hebreo antiguo y griego koine.

- Publisher
You May Also Be Interested In
About "Los Nombres De Dios"
¿Qué tiene un nombre? Los nombres de Dios: 52 Estudios bíblicos personales y para grupos ofrece un método exclusivo de estudio Bíblico mediante un estudio de 52 semanas en el que se destacan los nombres y títulos de Dios y de Jesús, habiendo sido elaborado para ayudar a los lectores a experimentar su relación con el Señor de una forma más fresca y profunda.Mediante el estudio de nombres tan excelentes y variados como Adonai, El Shaday, Yeshua, Cordero de Dios, Príncipe de Paz, los lectores descubren a un Dios que es completamente santo, poderoso, asombroso, misericordioso, y cariñoso. Cada estudio semanal incluye: * Información de contexto que ayuda a los lectores a entender el nombre * Un pasaje central de la Escritura en el que se reveló el nombre por primera vez o donde adquirió mayor transcendencia * Una serie de preguntas para estudio en grupo o a nivel personal * Una lista de pasajes bíblicos para una reflexión más profunda.Basado en los libros Orando los Nombres de Dios y Orando los Nombres de Jesús pero con preguntas de estudio y reflexión adicionales, este exclusivo estudio bíblico ha sido diseñado para ayudar a individuos y grupos a investigar los nombres y títulos más importantes de Dios según los revela la Biblia. También incluye una útil guía de pronunciación para los Nombres de Dios en hebreo antiguo y griego koine.
- Publisher


Meet the Author
Ann Spangler
Ann Spangler is the author of many bestselling books, including Praying the Names of God, Praying the Names of Jesus, and Women of the Bible (with Jean Syswerda). An award-winning author, Ann's books appeal to a broad spectrum of readers interested in honestly exploring the connection between spiritual experience and everyday life. She and her two daughters live in Grand Rapids, Michigan.