Losing Susan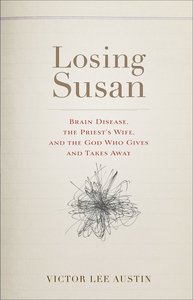 :The Story of Brain Disease and the Priest's Wife

This is the story of Susan--a wife, mother, Christian believer, lover of children, writer of stories, and woman of extraordinary intellect. Susan was diagnosed with a brain tumor in her late thirties. Although it was successfully treated, the process led to her slow, unending decline.

In this personal story of love and loss, Victor Lee Austin shares how caring for his wife during her painful struggle with brain cancer and its aftereffects brought him face-to-face with his God and with his faith in unsettling ways. God gave Victor what his heart most desired--marriage to Susan--then God took away what he had given. Yet God never withdrew his presence. Weaving together autobiographical details and profound theological insights, this powerful narrative shows that we are called to turn to God in the face of suffering.

- Publisher
You May Also Be Interested In
About "Losing Susan"
:The Story of Brain Disease and the Priest's Wife

This is the story of Susan--a wife, mother, Christian believer, lover of children, writer of stories, and woman of extraordinary intellect. Susan was diagnosed with a brain tumor in her late thirties. Although it was successfully treated, the process led to her slow, unending decline.

In this personal story of love and loss, Victor Lee Austin shares how caring for his wife during her painful struggle with brain cancer and its aftereffects brought him face-to-face with his God and with his faith in unsettling ways. God gave Victor what his heart most desired--marriage to Susan--then God took away what he had given. Yet God never withdrew his presence. Weaving together autobiographical details and profound theological insights, this powerful narrative shows that we are called to turn to God in the face of suffering.
- Publisher


Meet the Author
Victor Lee Austin
The Reverend Victor Lee Austin, (Ph.D., Fordham University) is Theologian-in-residence at Saint Thomas Church Fifth Avenue in New York City. He is the author of scholarly articles in political theology, ecclesiology, and social ethics, as well as a book of theological meditations on everyday life, A Priests Journal; Up with Authority: Why We Need Authority to Flourish as Human Beings and Christian Ethics: A Guide for the Perplexed.
Koorong -Editorial Review.
Table Of Contents
:contents

1. The Beginning
how We Met--how We Went To Church--that Summer--the Previous Christmas--her Brilliant Childhood--a Hug--the Second-best Book In The Bible--rejection And Reversal--heart's Desire--the Advent Calendar--the Tree Of Life--christmas Day--a Letter To Mr. Buckley--susan Is Published On Abortion--children--more Children
2. The Middle
lights--to Do What Needs To Be Done--prayer No Longer Makes Sense--seizure Control--where Was God?--he Taketh Away--on The Other Hand--god Intends To Kill Us--the Executive Function--how
that Worked Out--evil: Take One--evil: Take Two--evil: Take Three--the Hip--my Church Friends--
hydrocephalus--graduations--prevenient Grace--we Never Doubted God's Reality--back To College--back To Church--susan Walking--those Earlier Falls
3. The End
the Return Of The Seizure--and Another--this Time In Hospital--why I Witness To These Details--the Pebble Dare--the Year That Would Be The Last--at The Epilepsy
unit--the Dark Night--being Heard--recovery--anxiety--what The Body Knows--blessed Speech
therapists--the Happy Return To October; Its Tragic End--the Best Book In The Bible--sandy--what Is It?--the Kidneys Have Their Say--crossing Another Line--tears And Hope--december 17, 2012--may She Rest--a Christian Service--little Lady--why Have You Forsaken Me?--divergence And A Dream
epilogue: To Plumb The Depths Of God's Love by Susan Austin