Love and War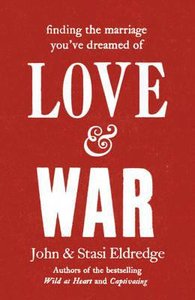 'You live in a love story set in the midst of a very real war...' What Wild at Heart did for men, and Captivating did for women, LOVE & WAR will do for married couples everywhere. John and Stasi Eldredge have contributed quintessential works on Christian spirituality for men and women separately but now they turn their focus to the incredible union between those two forces - marriage. With refreshing openness, the Eldredges discuss their own marriage and the insights they've gained from the challenges they've faced. Both speak independently to the reader about what they've learnt, giving their guidance personal immediacy and balanced male and female perspectives.John and Stasi begin LOVE & WAR with an obvious but necessary acknowledgement: marriage is fabulously hard. For every minute of happy delirium, there are equal amounts of disappointment and frustration and a sense that we've been deluded, that this isn't the marriage we dreamed of. Once we admit this, we are free to accept the great adventure of marriage; working together through strength gained from our own individual relationships with God, rather than looking to each other for happiness.

- Publisher
You May Also Be Interested In
About "Love and War"
'You live in a love story set in the midst of a very real war...' What Wild at Heart did for men, and Captivating did for women, LOVE & WAR will do for married couples everywhere. John and Stasi Eldredge have contributed quintessential works on Christian spirituality for men and women separately but now they turn their focus to the incredible union between those two forces - marriage. With refreshing openness, the Eldredges discuss their own marriage and the insights they've gained from the challenges they've faced. Both speak independently to the reader about what they've learnt, giving their guidance personal immediacy and balanced male and female perspectives.John and Stasi begin LOVE & WAR with an obvious but necessary acknowledgement: marriage is fabulously hard. For every minute of happy delirium, there are equal amounts of disappointment and frustration and a sense that we've been deluded, that this isn't the marriage we dreamed of. Once we admit this, we are free to accept the great adventure of marriage; working together through strength gained from our own individual relationships with God, rather than looking to each other for happiness.
- Publisher


Meet the Authors
John Eldredge
John Eldredge is an author, a counsellor, and teacher. He is also president of Ransomed Heart, a ministry devoted to helping people discover the heart of God, recover their own heart in his love, and learn to live in his Kingdom. He is also the author of numerous books, including Epic, Waking the Dead, Wild at Heart, and Desire, and co-author of Captivating and The Sacred Romance.

John grew up in the suburbs of Los Angeles (which he hated), and spent his boyhood summers on his grandfather's cattle ranch in eastern Oregon (which he loved). John met his wife Stasi in high school (in drama class). But their romance did not begin until they each came to faith in Christ, after high school. John earned his undergraduate degree in Theatre, and directed a theatre company in Los Angeles for several years before moving to Colorado with Focus on the Family, where he taught at the Focus on the Family Institute.

John earned his master's degree in Counselling from Colorado Christian University, under the direction of Larry Crabb and Dan Allender. He worked as a counselor in private practice before launching Ransomed Heart in 2000. John and Stasi live in Colorado Springs with their three sons.

While all of this is factually true, it somehow misses describing an actual person. He loves the outdoors passionately, especially living in the Rocky Mountains, and all beauty, Shakespeare, bow hunting, a good cigar, anything having to do with adventure, poetry, March Madness, working in the shop, fly fishing, classic rock, the Tetons, fish tacos, George MacDonald, green tea, buffalo steaks, dark chocolate, wild and open places, horses running, and too much more to name. He also uses the expression "far out" way too much.
Stasi Eldredge
Stasi Eldredge, who is passionate about mentoring women in finding their true identity as the Beloved of Christ, has been leading women's Bible studies for years. With a BA in Sociology and formerly on staff with Youth for Christ, Stasi now leads the women's ministry of Ransomed Heart. She is married to co-author of CAPTIVATING, John Eldredge, has three sons and lives in Colarado Springs, Colorado.
Customer Reviews For "Love and War"
Write Your Own Review
A great read for couples
By Renee,

Aug 29 2014
After reading 'Captivating' and 'Wild at Heart' my husband and I enjoyed this book as it covered so many different issues that may arise in any marriage. I found it was more a marriage building book than a marriage fixing book, however the insight both John and Stasi provide has helped me to better understand my husbands thinking patterns and also the ways in which Satan will work to try and destroy a solid marriage - divide and conquer! We also purchased the DVD and highly recommend that as well, especially if you are able to run it as a small group session (we just watch it on our own). Another fantastic read from John and Stasi Eldredge that will help protect your marriage so you and your partner have many prosperous years together, as God intended.
---
Simplistic
By Sharon,

Jun 19 2014
I found this book a little annoying as it looks far too simplistically at the complicated issues of marital conflict. The title is very promising but the authors fail to address many aspects of marriages in deep trouble and consequently fail to address deeper issues such as how to cope with violence in marriage, how to bring to light unrepented sin and how to walk in forgiveness when a partner is still causing hurt. The many examples put forward in the book are predominantly from the authors own experiences and therefore have a cultural bias. For example, going to a resort to brighten up your marriage is not something most people in the world can afford and neither does it necessarily address the deeper problems that exist and need the LORD to heal. How to forgive annoying habits is addressed, but coming to terms with a partner who does not honour the Lord is in my opinion, grossly overlooked considering the title, Love and War. There were a few helpful tips but not enough to satisfy me and I would be hesitant to recommend it to anyone with serious marriage issues.
{{review.title}}
By {{review.author.name}},

{{review.reviewCreatedDate | date:'MMM dd yyyy'}}

{{reviewdescription}}
{{review.text}}
---