Love Everlasting (#03 in Brides Of Seattle Series)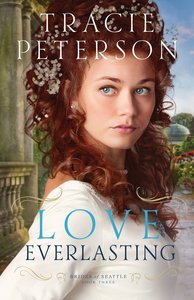 The Exciting Conclusion to Tracie Peterson's Brides of Seattle Series

Abrianna Cunningham has always viewed her longtime friend, Wade Ackerman, as
a protective brother. Lately, however, she's begun to see him differently and finds
herself attracted romantically to him. But she's confused and overwhelmed by these
unfamiliar feelings.

Wade, on the other hand, has loved Abrianna for some time and has been waiting for her to realize they are more than just friends. When he asks her to marry him, she asks for time to adjust to their changed relationship.

And then there's Priam Welby, who has been relentlessly pursuing Abrianna. Will his underhanded tactics succeed in luring Abrianna into marriage with him?

- Publisher
You May Also Be Interested In
About "Love Everlasting (#03 in Brides Of Seattle Series)"
The Exciting Conclusion to Tracie Peterson's Brides of Seattle Series

Abrianna Cunningham has always viewed her longtime friend, Wade Ackerman, as
a protective brother. Lately, however, she's begun to see him differently and finds
herself attracted romantically to him. But she's confused and overwhelmed by these
unfamiliar feelings.

Wade, on the other hand, has loved Abrianna for some time and has been waiting for her to realize they are more than just friends. When he asks her to marry him, she asks for time to adjust to their changed relationship.

And then there's Priam Welby, who has been relentlessly pursuing Abrianna. Will his underhanded tactics succeed in luring Abrianna into marriage with him?
- Publisher


Meet the Author
Tracie Peterson
Tracie Peterson is a full-time author who has written or co-written over 60 novels in both historical and contemporary genres which regularly appear on the bestseller lists, including the WESTWARD CHRONICLES, the YUKON QUEST and the SHANNON SAGA series. Tracie also teaches writing workshops at a variety of conferences on subjects including inspirational romance and historical research. Tracie and her family live in Montana. - Publisher.
Other Titles In The "Brides Of Seattle Series" Series View All