Love Finds a Home (#08 in Love Comes Softly Series)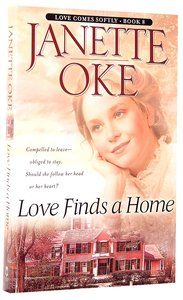 Belinda Davis's move to Boston had introduced her to a life she never could have imagined growing up in the West. But even the opportunities of wealth, literature and travel left her feeling empty. Realizing her faith had been pushed into the background, she once again invites God to have first place in her life.

But now she faces new life decisions that seem even more difficult than before. Torn between two contrasting ways of life, one full of fascinating opportunities in the East and one represented by the beloved farm home in which she was raised, she clings to the principles that are her parents' legacy: faith, love, and family.


- Publisher 224 Pages

- Publisher Book 8 of the bestselling Love Comes Softly series. Leaving her little prairie town, Belinda Davis never dreamed that the excitement of living in Boston would leave her restless and empty inside. Wealth, literature, travel, and romance touched her life with choices and decisions that brought dissatisfaction rather than joy. She discovered that only when God had first place in her life was her peace restored. Belinda once again faces decisions about her life that are no less difficult than before. A very unexpected responsibility makes the choice even harder.

- Publisher
You May Also Be Interested In
About "Love Finds a Home (#08 in Love Comes Softly Series)"
Belinda Davis's move to Boston had introduced her to a life she never could have imagined growing up in the West. But even the opportunities of wealth, literature and travel left her feeling empty. Realizing her faith had been pushed into the background, she once again invites God to have first place in her life.

But now she faces new life decisions that seem even more difficult than before. Torn between two contrasting ways of life, one full of fascinating opportunities in the East and one represented by the beloved farm home in which she was raised, she clings to the principles that are her parents' legacy: faith, love, and family.

- Publisher

224 Pages
- Publisher

Book 8 of the bestselling Love Comes Softly series. Leaving her little prairie town, Belinda Davis never dreamed that the excitement of living in Boston would leave her restless and empty inside. Wealth, literature, travel, and romance touched her life with choices and decisions that brought dissatisfaction rather than joy. She discovered that only when God had first place in her life was her peace restored. Belinda once again faces decisions about her life that are no less difficult than before. A very unexpected responsibility makes the choice even harder.
- Publisher


Meet the Author
Janette Oke
Janette Oke was born in Champion, Alberta, Canada, during the depression years. She graduated from Mountain View Bible College in Alberta where she met her husband, Edward. They married in 1957 and served in churches in Calgary and Edmonton, Canada, and Indiana. Oke writes historical novels which portray the lives of early North American settlers from many walks of life and geographical settings. She also writes engaging children's stories and inspiring gift books that warm the heart. Oke published her first book, Love Comes Softly, in 1979. This book experienced immediate success and became a series. She has won a number of awards including the Gold Medallion Award, The Christy Award of Excellence, the 1992 Presidents Award for her significant contribution to the category of Christian fiction from the Evangelical Christian Publishers Association, and in 1999, the Life Impact Award from the Christian Booksellers Association International. Her books have been translated into fourteen languages. Oke has published some 75 books including, The Canadian West, Seasons of the Heart and Women of the West. Her most recent releases include a beautiful childrens picture book, I Wonder...Did Jesus Have a Pet Lamb and The Songs of Acadia series, co-written with T. Davis Bunn. - Publisher.
Other Titles In The "Love Comes Softly" Series View All