Love: Fulfilling the Ultimate Quest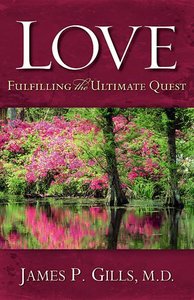 Who understands it? We can't see love or grab hold of it. We often don't know how to accept love, and we're most afraid of expressing it to others. Young or old, prince or pauper, we long to love and be loved more than anything in the world. Why does it elude us so? Some fortunate souls find love, but, like expensive perfume left open too long, its sweet aroma evaporates. Where does love go? How can we increase our chances of keeping it? If you've asked similar questions, you have come to the right place. In his book, Jim Gills, husband and father, eye surgeon and athlete, author and devoted man of God, gives substance to love. He doesn't claim to have mastered the art of loving. He simply challenges us all to join him in life's ultimate quest. Book jacket.

- Publisher This revised and updated edition provides an even better understanding of the essential characteristics of love. Readers will learn the five various types of love and read an explanation of love as many know it and as it should be. Dr. Gills provides an in-depth study on the hindrances of love, God's agape love, and love at its worst. The ultimate goal of this book is to receive love at its finest by accepting God's love for us, showing our love for God, and giving love to others.

- Publisher
You May Also Be Interested In
About "Love: Fulfilling the Ultimate Quest"
Who understands it? We can't see love or grab hold of it. We often don't know how to accept love, and we're most afraid of expressing it to others. Young or old, prince or pauper, we long to love and be loved more than anything in the world. Why does it elude us so? Some fortunate souls find love, but, like expensive perfume left open too long, its sweet aroma evaporates. Where does love go? How can we increase our chances of keeping it? If you've asked similar questions, you have come to the right place. In his book, Jim Gills, husband and father, eye surgeon and athlete, author and devoted man of God, gives substance to love. He doesn't claim to have mastered the art of loving. He simply challenges us all to join him in life's ultimate quest. Book jacket.
- Publisher

This revised and updated edition provides an even better understanding of the essential characteristics of love. Readers will learn the five various types of love and read an explanation of love as many know it and as it should be. Dr. Gills provides an in-depth study on the hindrances of love, God's agape love, and love at its worst. The ultimate goal of this book is to receive love at its finest by accepting God's love for us, showing our love for God, and giving love to others.
- Publisher


Meet the Author
James Gills
James P. Gills, MD, is the founder and director of St. Luke's Cataract and Laser Institute in Tarpon Springs, Florida. In addition to earning a reputation as the most experienced cataract surgeon in the world, he has dedicated his life to restoring more than physical vision. Dr. Gills has been an active author about spiritual topics for many years. His books include Love: Fulfilling the Ultimate Quest; A Biblical Economics Manifesto; Darwinism Under the Microscope; Come Unto Me: God's Call to Intimacy; and Rx for Worry.