Love Gently Falling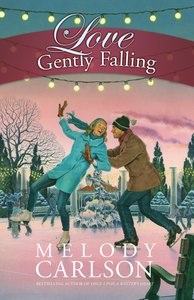 Rita Jansen is living her dream as a hairstylist in Hollywood when her father calls with news that her mother has suffered a stroke. When she gets home to Chicago, Rita finds her mother is healing but facing a long recovery. Worse, without being able to run their family-owned salon, her mother could lose the business. Rita decides to help, but she only has until Valentine's Day to come up with a plan.
As Rita takes her mother's place at work, the nearby skating rink she loved as a child brings back fond memories. Rita also finds herself renewing friendships with her childhood best friend, Marley, as well as her classmate Johnny. Although they now lead such seemingly different lives, Rita is surprised by how well she and Johnny connect and how far he will go to help her. Though Rita believes Johnny is only being kind, with romance kindling in the air and on the ice, their friendship may just fall into something more.




- Publisher
You May Also Be Interested In
About "Love Gently Falling"
Rita Jansen is living her dream as a hairstylist in Hollywood when her father calls with news that her mother has suffered a stroke. When she gets home to Chicago, Rita finds her mother is healing but facing a long recovery. Worse, without being able to run their family-owned salon, her mother could lose the business. Rita decides to help, but she only has until Valentine's Day to come up with a plan.
As Rita takes her mother's place at work, the nearby skating rink she loved as a child brings back fond memories. Rita also finds herself renewing friendships with her childhood best friend, Marley, as well as her classmate Johnny. Although they now lead such seemingly different lives, Rita is surprised by how well she and Johnny connect and how far he will go to help her. Though Rita believes Johnny is only being kind, with romance kindling in the air and on the ice, their friendship may just fall into something more.



- Publisher


Meet the Author
Melody Carlson
Melody Carlson has published over ninety books for adults, children, and teens, with sales totaling more than two million and many titles appearing on the ECPA Bestsellers List. Several of her books have been finalists for, and winners of, various writing awards, including the Gold Medallion and the RITA Award. Some of her popular multi-volume series include Diary of a Teenage Girl and True Colours.