Love Has a Face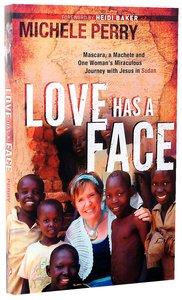 Unforgettable Memoir of a Woman Bringing the Love of Jesus to the Orphans of Sudan.

Termites for dinner. Bombs in the backyard. A nation torn by decades of war still on the brink. Can one life really make a difference here?

Born without her left hip and leg, Michele Perry is no stranger to seeming impossibilities. So when she arrived in war-torn Southern Sudan--with little more than her faith in God's promises--she did what everyone told was crazy: she opened a home for orphaned children in the middle of guerilla warfare territory and has now become "mama" to over one hundred little lives.

With a deft pen, she recounts unforgettable stories of life in the bush, stories that capture the reader with the stark realities of living in a war zone - and the power of God's love to transform them. Her own story is just as compelling as the ministry she is living. From working in the slums of India to finding her home in war-ravaged Africa, her life has been a journey deeper into the supernatural power of God.

Captivatingly honest, readers will be swept up in one woman's poignant, spellbinding journey of love and the glimpses of God's tender grace and mercy in the midst of a broken and hurting world.

Endorsements
"Michele Perry's Love Has a Face is an incredible book. Facing her own insurmountable obstacles, Michele was born without her left hip and leg. By the time she was thirteen, she had endured 23 surgeries. In midst of these difficulties, Jesus Himself came to Michele and called her to bring His love to 'the least of these.' Leaving the security of America, Michele has become a one-legged ambassador of love--first to the slums of India and now to the war-torn regions of Southern Sudan. Michele is transforming one of the most dangerous spots on earth, one child at a time, by the loving heart of Jesus. This moving and amazing story will inspire you, too, to be the face of transforming love right where you live. We cannot say enough about Michele and her work. You have to read this book!"
-Wesley and Stacey Campbell, RevivalNOW Ministries; Be A Hero (NGO); board members, Iris Ministries



- Publisher
You May Also Be Interested In
About "Love Has a Face"
Unforgettable Memoir of a Woman Bringing the Love of Jesus to the Orphans of Sudan.

Termites for dinner. Bombs in the backyard. A nation torn by decades of war still on the brink. Can one life really make a difference here?

Born without her left hip and leg, Michele Perry is no stranger to seeming impossibilities. So when she arrived in war-torn Southern Sudan--with little more than her faith in God's promises--she did what everyone told was crazy: she opened a home for orphaned children in the middle of guerilla warfare territory and has now become "mama" to over one hundred little lives.

With a deft pen, she recounts unforgettable stories of life in the bush, stories that capture the reader with the stark realities of living in a war zone - and the power of God's love to transform them. Her own story is just as compelling as the ministry she is living. From working in the slums of India to finding her home in war-ravaged Africa, her life has been a journey deeper into the supernatural power of God.

Captivatingly honest, readers will be swept up in one woman's poignant, spellbinding journey of love and the glimpses of God's tender grace and mercy in the midst of a broken and hurting world.

Endorsements
"Michele Perry's Love Has a Face is an incredible book. Facing her own insurmountable obstacles, Michele was born without her left hip and leg. By the time she was thirteen, she had endured 23 surgeries. In midst of these difficulties, Jesus Himself came to Michele and called her to bring His love to 'the least of these.' Leaving the security of America, Michele has become a one-legged ambassador of love--first to the slums of India and now to the war-torn regions of Southern Sudan. Michele is transforming one of the most dangerous spots on earth, one child at a time, by the loving heart of Jesus. This moving and amazing story will inspire you, too, to be the face of transforming love right where you live. We cannot say enough about Michele and her work. You have to read this book!"
-Wesley and Stacey Campbell, RevivalNOW Ministries; Be A Hero (NGO); board members, Iris Ministries


- Publisher


Meet the Author
Michele Perry
Michele Perry is the founding field ministry coordinator for Iris Ministries in Southern Sudan under Rolland and Heidi Baker. Born without her left hip and leg and other birth defects, she endured 23 surgeries by age 13. A native of Florida, Michele studied at Baylor and has previously served in Bangladesh, India, and the inner cities of the U.S. She is also an artist, photographer, and poet. Michele wrote most of Love Has a Face on an old computer by a kerosene lamp in a bullet-hole ridden shell of a building in Southern Sudan. Her writing was punctuated by the occasional AK-47 shot.
Customer Reviews For "Love Has a Face"
Write Your Own Review
Beautiful story
By Kaidee,

May 26 2015
I really enjoyed reading this book. I love the simplicity of Michele Perry's walk with Jesus; one of love, devotion, obedience, miracles! What a simple faith she has. I loved reading about the journey the Lord has taken Michele on and the beautiful ways He is touching lives in Sudan through her.
---
Best book I've read this year
By Mel,

Sep 03 2012
Love has a face challenged me and changed me as I read Michelle's beautiful account of her journey to the mission field and of the intimate love relationship she has with Jesus. The visions and encounters she shares have forever impacted on my heart and the picture she paints of her beautiful savior through her journey is one I will never forget. I think everyone should read this book and be challenged to get back to simply living a life laid down for love and passion for Jesus. 
---
this one is refreshing and life changing
By jenny,

Dec 08 2009
Love Has a Face is refreshing, real,and full of encouragement. Michelle's story truly is amazing and is a wonderful testimony to God's love! Full of miracles and simple faith that is not complicated or full of instructions and formulas. Just the pure love of a Father in Heaven and a woman determined to live out that love and change the world one person at a time. I would love to be able to buy a copy for everyone I know as her message is life changing!
{{review.title}}
By {{review.author.name}},

{{review.reviewCreatedDate | date:'MMM dd yyyy'}}

{{reviewdescription}}
{{review.text}}
---