Love Jude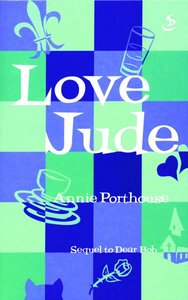 Jude Singleton has survived her first year at university, resolved some of her spiritual dificulties, and is finally in a steady Christian relationship. She now has to cope with a boyfriend, and juggle all the other demands and struggles students have to face. Does she manage to keep it together?

- Publisher Love Jude is the follow up to Dear Bob. Featuring the continuing adventures, in diary format, of Jude Singleton at University. In this sequel she has to deal with being part of a Christian relationship without appearing to be a complete obsessive, with often hilarious results.

- Publisher
You May Also Be Interested In
About "Love Jude"
Jude Singleton has survived her first year at university, resolved some of her spiritual dificulties, and is finally in a steady Christian relationship. She now has to cope with a boyfriend, and juggle all the other demands and struggles students have to face. Does she manage to keep it together?
- Publisher

Love Jude is the follow up to Dear Bob. Featuring the continuing adventures, in diary format, of Jude Singleton at University. In this sequel she has to deal with being part of a Christian relationship without appearing to be a complete obsessive, with often hilarious results.
- Publisher


Meet the Author
Annie Porthouse
Annie Porterhouse is a Christian author, living in England. Her first two novels, published by Scripture Union, are Dear Bob and Love Jude.

She has also contributed to three other books (non-fiction) and had many articles published.