Love Like You've Never Been Hurt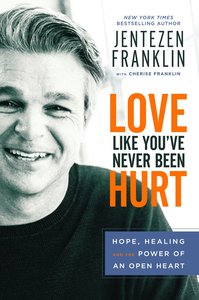 Powerful, Vulnerable Teaching from New York Times Bestselling Author

The human heart was created with a great capacity to love. But along with that comes a great capacity to feel pain. There is no denying that those who love us, who are closest to us, can wound us the most profoundly. That kind of pain can be difficult, if not impossible, to overcome. And it can feel even more impossible to continue loving in the face of it. Yet that is exactly what we are called to do.

Sharing his own story of personal pain, pastor and New York Times bestselling author Jentezen Franklin shows us how to find the strength, courage, and motivation to set aside the hurt, see others as God sees them, and reach out in love. Through biblical and modern-day stories, he discusses different types of relational disappointment and heartache, and answers questions such as Why should I trust again? and How can I ever really forgive?

The walls we build around our hearts to cut us off from pain are the very walls that block us from seeing hope, receiving healing, and feeling love. Here are the tools and inspiration you need to tear down those walls, work through your wounds, repair damaged relationships, and learn to love like you've never been hurt.

- Publisher
You May Also Be Interested In
About "Love Like You've Never Been Hurt"
Powerful, Vulnerable Teaching from New York Times Bestselling Author

The human heart was created with a great capacity to love. But along with that comes a great capacity to feel pain. There is no denying that those who love us, who are closest to us, can wound us the most profoundly. That kind of pain can be difficult, if not impossible, to overcome. And it can feel even more impossible to continue loving in the face of it. Yet that is exactly what we are called to do.

Sharing his own story of personal pain, pastor and New York Times bestselling author Jentezen Franklin shows us how to find the strength, courage, and motivation to set aside the hurt, see others as God sees them, and reach out in love. Through biblical and modern-day stories, he discusses different types of relational disappointment and heartache, and answers questions such as Why should I trust again? and How can I ever really forgive?

The walls we build around our hearts to cut us off from pain are the very walls that block us from seeing hope, receiving healing, and feeling love. Here are the tools and inspiration you need to tear down those walls, work through your wounds, repair damaged relationships, and learn to love like you've never been hurt.
- Publisher


Meet the Authors
Jentezen Franklin
Jentezen Franklin is the Senior Pastor of Free Chapel, a multi-campus church. Each week his television program Kingdom Connection is broadcast on major networks all over the world. A New York Times best-selling author, Jentezen has written eight books including the groundbreaking Fasting and Right People, Right Place, Right Plan. Having a passion to serve others and foster unity, he was awarded the Martin Luther King Jr. Mantle of Destiny Award for his work and efforts for racial reconciliation. Jentezen has served as an advisor to CEOs and business leaders of multiple organizations and is listed among notable alumni at Barton College in Wilson, North Carolina. Additionally, he has served on an advisory board to the President of the United States. Jentezen and his wife Cherise have been married thirty years, have five children and two grandchildren, and make their home in Gainesville, Georgia.

A J Gregory
A. J. Gregory is an accomplished freelance writer who has helped author seven books. Thought-provoking and meditative, Gregory is not afraid to seek out and expose the truth of the inner life--the good, bad, and ugly. Through asking the tough questions, her transparency is honest, refreshing, and painfully revealing. Messy Faith is her groundbreaking attempt at finding some equilibrium between spirituality and the realities of life. She is a member of The Life Christian Church, a seeker-friendly congregation located in a suburb of New York City.