Love So Amazing:40 Reflections on My Favourite Hymns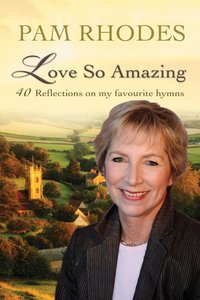 Pam Rhodes is a fan of the great hymns, and very knowledgeable. Here she brings together her meditations on 40 of her personal favourites. Each meditation concludes with a brief prayer. ?When we wake up feeling weary, we can find inspiration in the timeless thoughts of hymn writers,? she explains. ?Hymns are prayers in our pockets, a spiritual first aid kit. Hymns speak to us soul to soul, connecting us in fellow feeling to the writer. ?Often the thoughts are all the more powerful when I know something of the hymn writer. That's why I have included the story of each writer in the hope that their experience will ring bells. ?The words of hymn writers aren?t always cosy and comfortable. They nudge our conscience and spur us on to react and respond. Most of all, they remind us of the Almighty God who created the heavens in all their vastness, but who also created us as precious through His amazing love.?

- Publisher
You May Also Be Interested In
About "Love So Amazing:40 Reflections on My Favourite Hymns"
Pam Rhodes is a fan of the great hymns, and very knowledgeable. Here she brings together her meditations on 40 of her personal favourites. Each meditation concludes with a brief prayer. ?When we wake up feeling weary, we can find inspiration in the timeless thoughts of hymn writers,? she explains. ?Hymns are prayers in our pockets, a spiritual first aid kit. Hymns speak to us soul to soul, connecting us in fellow feeling to the writer. ?Often the thoughts are all the more powerful when I know something of the hymn writer. That's why I have included the story of each writer in the hope that their experience will ring bells. ?The words of hymn writers aren?t always cosy and comfortable. They nudge our conscience and spur us on to react and respond. Most of all, they remind us of the Almighty God who created the heavens in all their vastness, but who also created us as precious through His amazing love.?
- Publisher


Meet the Author
Pam Rhodes
Pam Rhodes has presented the world's number one religious television programm since 1987. Prior to that she had been a journalist and TV news reporter.