Love Unending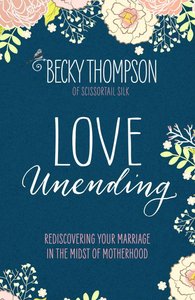 How can I remember how to be a wife when it takes all I've got to be a momma?

Since becoming a mom, do you ever feel like your marriage no longer receives the attention it needs to thrive? Do you ever wonder how you're supposed to re-center your heart on your husband when you are so busy with everything else?

Those feelings we experienced in the first days of love and marriage often become buried beneath hurried life, active children, and mountains of bills and laundry. Maybe you've questioned and perhaps even worried if you'll ever again experience love as you did in the beginning-that newness of what it meant to be fully caught up in one another. But what if you could rekindle that fresh sort of love? What if there was a secret to love unending?

For the next twenty-one days, journey with Becky Thompson to remember what life was like when you first fell in love with your husband. Each daily challenge, reflection, and prayer will refocus your attention, re-center your heart, reignite the romance, and help you rediscover your marriage in the midst of motherhood.

Take the Love Unending 21-day challenge and discover the best way forward is to look back at the beginning.


From the Trade Paperback edition.

- Publisher
You May Also Be Interested In
About "Love Unending"
How can I remember how to be a wife when it takes all I've got to be a momma?

Since becoming a mom, do you ever feel like your marriage no longer receives the attention it needs to thrive? Do you ever wonder how you're supposed to re-center your heart on your husband when you are so busy with everything else?

Those feelings we experienced in the first days of love and marriage often become buried beneath hurried life, active children, and mountains of bills and laundry. Maybe you've questioned and perhaps even worried if you'll ever again experience love as you did in the beginning-that newness of what it meant to be fully caught up in one another. But what if you could rekindle that fresh sort of love? What if there was a secret to love unending?

For the next twenty-one days, journey with Becky Thompson to remember what life was like when you first fell in love with your husband. Each daily challenge, reflection, and prayer will refocus your attention, re-center your heart, reignite the romance, and help you rediscover your marriage in the midst of motherhood.

Take the Love Unending 21-day challenge and discover the best way forward is to look back at the beginning.


From the Trade Paperback edition.
- Publisher


Meet the Author
Becky Thompson
Becky Thompson is the author of Scissortail SILK, a blog that draws a global audience of millions. Speaking to the often overlooked struggle of balancing life as a wife, mother, and daughter of God, Becky has a captivating way of becoming the voice for women in need of hope, healing, and the Father's love. Becky's candid way of sharing her heart extends an unspoken invitation for women to feel as though they have gained a friend and realize that somewhere there is a woman who feels just like they do.
Customer Reviews For "Love Unending"
Write Your Own Review
It Changed My Marriage! A Must-Read!
By Elise,

Jan 23 2017
Becky Thompson is one of my favourite authors. Her first book, Hope Unfolding, was beautifully written and easy to read, like I was sitting down to coffee with an old friend. 

Her latest book, Love Unending, is written in the same friendly voice, but is presented in a completely different format; it's designed as a 21 day challenge (with one chapter per day) to help us busy mommas rekindle the romance in our marriages. Each chapter introduces one practical step that we can take to enhance our relationship with our husbands, encouraging us to take that step over the course of the day. Then, at the end of the day, we can write and reflect about how things are going. 

I received an advanced reading copy of this book (in exchange for my honest review) and was eager to dive right into the challenge. With each passing day, I began to notice positive changes in my marriage and in our home. This will definitely be a book I'll read over and over again because it's a great reminder to be intentional with my husband in the midst of life's busyness. 

Regardless of whether your marriage is struggling or is better than it's ever been, I would encourage you to read this book. Becky's honesty about her own marriage and the practical advice that she offers have already made a lasting impact on hearts, lives and marriages everywhere.
---
Not just for marriages that need help
By Stacey,

Jan 05 2017
To be honest, I did not really think I "needed" this book before I began reading it.  Sure, sometimes my relationship with my husband feels more like roommate status when life gets busy and the kids are going crazy, but we have always gotten along well and seen eye to eye on most issues.  However, I am a huge fan of the author's writing and truly believe in the power of her message, so I eagerly read Love Unending and committed to the challenges anyway.  The journal prompts caused me to reflect on how much I, and my relationship with my husband, have changed over the years, and the result was eye-opening.  I realized the importance of showing my husband that I value him for the amazing person he is, and not for the help he can provide to me.  This book provides practical, concrete steps to intentionally live out your love for your spouse, in quick and fun-to-read daily chapters.  It is not just for parents of young kids, or older kids, or marriages in trouble.  Some of the principles discussed in this book are universal to many relationships and I found many of them carry over into my interactions with my children.
---
Amazing -- Even for wives with "out of town husbands"!
By Molly H.,

Jan 04 2017
As a long time follower of Becky Thompson and her blog Scissortail Silk, I was extremely excited to know that she was going to be writing a book about marriage after kids. Now, I was a little hesitant because there are quite a few books on this topic. HOWEVER, this book is nothing like the others. As the wife of a Lineman who is out of town more than he is home, I was a little concerned on how the challenges given in this book would work, but I was very pleasantly surprised to find that even though I had to do a little altering, this book worked for me. And I am convinced that if it is doable for my situation, it is doable for anyone's! I loved Becky's honesty and relatable stories and experiences throughout the book, made me feel like I wasn't alone in any of the situations I face as a married woman with a child! She says that the first few challenges are critical, and the rest help build on them and I would definitely say that is true. I HIGHLY recommend this book to anyone - whether you are looking for just a little push in the right direction, or are needing a little more help than most-and definitely feel that the effort that she suggests you put in is entirely worth it, as I saw a significant positive change in my marriage! 
---
This REALLY works!
By Amy,

Jan 04 2017
Finally - a practical, funny, and real marriage book written just for moms!  I loved it.  It was not too much to read each day (because really, we're moms and we don't have a lot of time for reading) and the challenges were practical and effective!  I was skeptical that after 14 years, we could really "go back to the beginning", but this book really does do that!  Definitely worth reading!
---
Great book with practical application
By LGS,

Jan 04 2017
A well written book which is easy to read and applicable to every phase of marriage. Becky's ability to take me back to the memories that made me fall in love with my husband and daily practical challenges were instrumental in rekindling the love in our marriage.
{{review.title}}
By {{review.author.name}},

{{review.reviewCreatedDate | date:'MMM dd yyyy'}}

{{reviewdescription}}
{{review.text}}
---