Love Written in Stone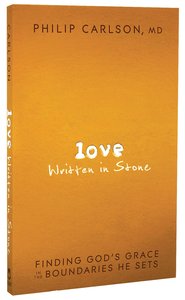 Does God want you to live the good life?

Sometimes the Bible's instructions seem legalistic or even obsolete to our twentyfirst-century lives. But what if these laws are evidence that God cares? What if the ancient truths in the Bible actually show us the way to a healthy life, the kind of life we are looking for--even today?

As both a pastor and a medical doctor, Philip Carlson, MD, brings a unique perspective to the connection between following God's guidelines and wellness in our lives. As he demystifies God's expectations regarding family relationships, nutrition, sexuality, the environment, and more, Carlson's conclusions--backed up by recent research--may surprise you.

Here is your invitation to see how God desires your greatest good from the beginning of time.

- Publisher
You May Also Be Interested In
About "Love Written in Stone"
Does God want you to live the good life?

Sometimes the Bible's instructions seem legalistic or even obsolete to our twentyfirst-century lives. But what if these laws are evidence that God cares? What if the ancient truths in the Bible actually show us the way to a healthy life, the kind of life we are looking for--even today?

As both a pastor and a medical doctor, Philip Carlson, MD, brings a unique perspective to the connection between following God's guidelines and wellness in our lives. As he demystifies God's expectations regarding family relationships, nutrition, sexuality, the environment, and more, Carlson's conclusions--backed up by recent research--may surprise you.

Here is your invitation to see how God desires your greatest good from the beginning of time.

- Publisher
- Koorong

Many Christians don't know what to think of the Bible's commands, as they often seem legalistic and burdensome. But medical doctor Philip Carlson reveals that God instructs us because he loves us as a father loves his children. Recent research in the health sciences demonstrates that following God's guidelines produces wellness and wholeness in our lives. Readers will be encouraged to learn that the sciences are catching up to what God has been saying all along about family relationships, nutrition, sexuality, rest, and more.
- Publisher


Meet the Author
Philip Carlson
Philip Carlson, MD, (ThM, Fuller; MD, University of Southern California) is senior pastor of Bethany Church of Sierra Madre and practices family medicine in Pasadena. He also teaches at the college level and is a conference speaker. His first book, You Were Made for Love, received a starred review from Publishers Weekly. He lives in Sierra Madre, California, with his wife, Carole, and their four children.