Love's Awakening (#02 in The Ballantyne Legacy Series)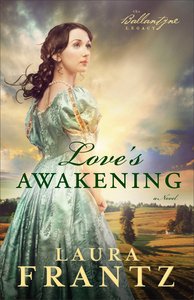 Ellie Ballantyne, youngest child of Silas and Eden, has left finishing school. But back at her family home in Pittsburgh, Ellie finds that her parents are away on a long trip and her siblings don't seem to want her to stay. When she opens a day school for young ladies, she begins tutoring the incorrigible daughter of the enemy Turlock clan. The Turlocks are slaveholders and whiskey magnates, envious of the powerful Ballantynes and suspicious of their abolitionist leanings. As Ellie becomes increasingly tangled with the Turlocks, she finds herself falling in love with an impossible future--and Jack Turlock, a young man striving to free himself from his family's violent legacy. How can she betray her family and side with the enemy? And will Jack ever allow her into his world?

Masterful storyteller Laura Frantz continues to unfold the stirring saga of the Ballantyne family in this majestic tale of love, loyalty, and the makings of a legacy. With rich descriptions of the people who settled and civilized a wild landscape, Frantz weaves a tapestry of characters and places that stick with the reader long after they turn the last page.

- Publisher
You May Also Be Interested In
About "Love's Awakening (#02 in The Ballantyne Legacy Series)"
Ellie Ballantyne, youngest child of Silas and Eden, has left finishing school. But back at her family home in Pittsburgh, Ellie finds that her parents are away on a long trip and her siblings don't seem to want her to stay. When she opens a day school for young ladies, she begins tutoring the incorrigible daughter of the enemy Turlock clan. The Turlocks are slaveholders and whiskey magnates, envious of the powerful Ballantynes and suspicious of their abolitionist leanings. As Ellie becomes increasingly tangled with the Turlocks, she finds herself falling in love with an impossible future--and Jack Turlock, a young man striving to free himself from his family's violent legacy. How can she betray her family and side with the enemy? And will Jack ever allow her into his world?

Masterful storyteller Laura Frantz continues to unfold the stirring saga of the Ballantyne family in this majestic tale of love, loyalty, and the makings of a legacy. With rich descriptions of the people who settled and civilized a wild landscape, Frantz weaves a tapestry of characters and places that stick with the reader long after they turn the last page.
- Publisher


Meet the Author
Laura Frantz
Laura Frantz credits her 100-year-old grandmother as being the catalyst for her fascination with Kentucky history. Frantz's family followed Daniel Boone into Kentucky in 1792 and settled in Madison County where her family still resides. Frantz is a former schoolteacher and social worker who currently lives in the misty woods of Washington state with her husband and two sons, whom she homeschools.
Other Titles In The "The Ballantyne Legacy Series" Series