Loving God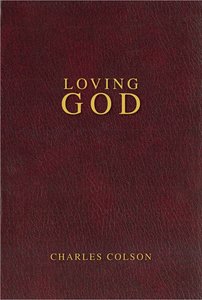 Chuck Colson's Classic offers a penetrating and challenging look at the cost and joy of being a Christian.
You May Also Be Interested In
About "Loving God"
Chuck Colson's Classic offers a penetrating and challenging look at the cost and joy of being a Christian.
- Koorong

In his magnificent classic, Chuck Colson shakes the church from its complacency with a penetrating look at the cost of being Christian.For those who have wondered whether there isn?t more to Christianity than what they have known---and for those who have never considered the question---Loving God points the way to faith's cutting edge. Here is a compelling, probing look at the cost of discipleship and the meaning of the first and greatest commandment---one that will strum a deeper, truer chord within even as it strips away the trappings of shallow, cultural Christianity.?Looking for the complete volume on Christian living? This is it. And the title sums it up. If you desire life deep, rich, and meaningful, then it is simply Loving God.?Joni Eareckson TadaPresident, Joni and Friends
- Publisher


Meet the Author
Charles Colson
The well-known story of Charles Colson's transformation from President Richard Nixon's "hatchet man" who was "incapable of humanitarian thoughts" to founder of the Prison Fellowship Ministries and internationally recognized Christian author and speaker is a triumph of God finding a man and a man finding God. His 1973 conversion to Christianity was followed by a guilty plea to obstruction of justice and a seven-month prison sentence in 1974. He founded Prison Fellowship Ministries in 1976, fulfilling a promise made to fellow inmates that he would "never forget those behind bars."
Charles Colson's first book, Born Again, was released in 1976 and instantly became an international bestseller. He has authored many books that have collectively sold more than five million copies worldwide, including Justice That Restores; How Now Shall We Live?; Burden of Truth, Answers to Your Kids; Gideon's Torch; Why America Doesn't Work; Kingdoms in Conflict; and Loving God.
He is also a columnist, international speaker, and commentator on a national radio broadcast. He received the prestigious Templeton Prize for Progress in Religion in 1993 and donated the $1 million prize to the Prison Fellowship's Endowment Fund.
Table Of Contents
In His Magnificent Classic, Chuck Colson Shakes The Church From Its Complacency With A Penetrating Look At The Cost Of Being Christian.for Those Who Have Wondered Whether There Isn?t More To Christianity Than What They Have Known---and For Those Who Have Never Considered The Question---loving God Points The Way To Faith's Cutting Edge. Here Is A Compelling, Probing Look At The Cost Of Discipleship And The Meaning Of The First And Greatest Commandment---one That Will Strum A Deeper, Truer Chord Within Even As It Strips Away The Trappings Of Shallow, Cultural Christianity.?looking For The Complete Volume On Christian Living? This Is It. And The Title Sums It Up. If You Desire Life Deep, Rich, And Meaningful, Then It Is Simply Loving God.?joni Eareckson Tadapresident, Joni And Friends