Luke - 60 Bite-Sized Insights (Straight To The Heart Of Series)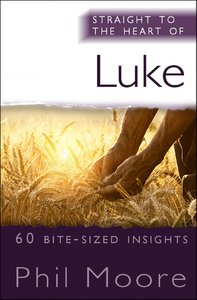 Luke was so unlike the other New Testament writers that many of his contemporaries believed he wasn?t qualified to write Scripture at all. But to understand the message of his gospel, we need to grasp who he was. Luke was the only New Testament writer who was not a Jew. The apostle Paul defends him by stating explicitly that his gospel was as much Holy Scripture as the Old Testament. Luke was an outsider to the Jewish faith that God inspired to compile an account of the life of Jesus in order to show people all around the world that what Jesus said and did him said and did for us all. The astonishing message of Luke's gospel is that what happened to Jesus happened for you. Phil Moore helps us to understand and see God's wisdom in choosing Luke as a writer. He shows that Luke assures us that this isn?t someone else's story: he came for you. We can say yes to Jesus, discovering that he can use you. And that all this is possible because he made a way for you.

- Publisher
You May Also Be Interested In
About "Luke - 60 Bite-Sized Insights (Straight To The Heart Of Series)"
Luke was so unlike the other New Testament writers that many of his contemporaries believed he wasn?t qualified to write Scripture at all. But to understand the message of his gospel, we need to grasp who he was. Luke was the only New Testament writer who was not a Jew. The apostle Paul defends him by stating explicitly that his gospel was as much Holy Scripture as the Old Testament. Luke was an outsider to the Jewish faith that God inspired to compile an account of the life of Jesus in order to show people all around the world that what Jesus said and did him said and did for us all. The astonishing message of Luke's gospel is that what happened to Jesus happened for you. Phil Moore helps us to understand and see God's wisdom in choosing Luke as a writer. He shows that Luke assures us that this isn?t someone else's story: he came for you. We can say yes to Jesus, discovering that he can use you. And that all this is possible because he made a way for you.
- Publisher


Meet the Author
Phil Moore
Phil Moore leads Queens Road Church in Wimbledon, London, UK. He also serves as a Bible teacher and evangelist within the Newfrontiers family of churches. He is the author of the "Straight to the Heart" series of devotional commentaries.
After graduating from Cambridge University, Phil spent time on the mission field and then in the business world. He has devoted many years to the Hebrew and Greek Scriptures, and he brings them to life in the language of today in the Straight to the Heart series. The first three volumes - Matthew, Acts and Revelation - were published in July 2010. Genesis and 1&2 Corinthians will be published in November 2010.
Phil is married to Ruth and they have three young children. Together, they love eating strange and exotic food, watching movies with lots of popcorn, and reading books by Roald Dahl. Phil's children complain that his own books do not contain enough pictures, talking animals or chocolate factories.
Other Titles In The "Straight To The Heart Of" Series View All