Luke (Understanding The Bible Commentary Series)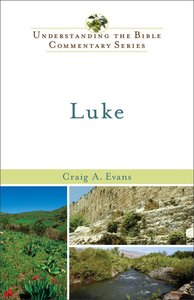 The Understanding the Bible Commentary Series helps readers navigate the strange and sometimes intimidating literary terrain of the Bible. These accessible volumes break down the barriers between the ancient and modern worlds so that the power and meaning of the biblical texts become transparent to contemporary readers. The contributors tackle the task of interpretation using the full range of critical methodologies and practices, yet they do so as people of faith who hold the text in the highest regard. Pastors, teachers, and lay people alike will cherish the truth found in this commentary series.

- Publisher
You May Also Be Interested In
About "Luke (Understanding The Bible Commentary Series)"
The Understanding the Bible Commentary Series helps readers navigate the strange and sometimes intimidating literary terrain of the Bible. These accessible volumes break down the barriers between the ancient and modern worlds so that the power and meaning of the biblical texts become transparent to contemporary readers. The contributors tackle the task of interpretation using the full range of critical methodologies and practices, yet they do so as people of faith who hold the text in the highest regard. Pastors, teachers, and lay people alike will cherish the truth found in this commentary series.
- Publisher


Meet the Author
Craig A Evans
Craig A. Evans (Ph.D., Claremont) is Payzant Distinguished Professor of New Testament and director of the graduate program at Acadia Divinity College in Wolfville, Nova Scotia. He has written extensively on the historical Jesus and the Jewish background of the New Testament era. His books include Jesus and His Contemporaries: Comparative Studies, Luke (New International Bible Commentary), Mark (Word Biblical Commentary), Jesus and the Ossuaries, Fabricating Jesus and Ancient Texts for New Testament Studies. His edited volumes include (with Bruce Chilton) Studying the Historical Jesus: Evaluations of the State of Current Research, Dictionary of New Testament Background, From Prophecy To Testament and (with John Collins) Christian Beginnings and the Dead Sea Scrolls.
He has recently served on the advisory board on The Gospel of Judas for National Geographic Society and has appeared frequently as an expert commentator on network television programs, such as Dateline, and in various documentaries on the BBC, the Discovery Channel and the History Channel. He most recent work is Matthew (New Cambridge Bible Commentary.)
Other Titles In The "Understanding The Bible Commentary" Series View All