Luther and His World: An Introduction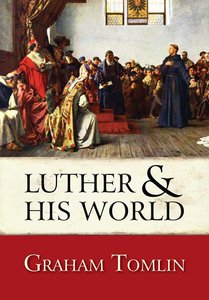 One of the towering characters of the Reformation, Martin Luther's actions, beliefs and writings have had an incalculable effect on the lives of millions of people. In this engaging book, Graham Tomlin paints a vivid picture of Luther's life, from his early struggles with faith to his emergence as the leading figure in the Reformation. The man revealed here is obstinate, sensitive, blunt and determined ? willing to risk all for his convictions.

- Publisher
You May Also Be Interested In
About "Luther and His World: An Introduction"
One of the towering characters of the Reformation, Martin Luther's actions, beliefs and writings have had an incalculable effect on the lives of millions of people. In this engaging book, Graham Tomlin paints a vivid picture of Luther's life, from his early struggles with faith to his emergence as the leading figure in the Reformation. The man revealed here is obstinate, sensitive, blunt and determined ? willing to risk all for his convictions.
- Publisher


Meet the Author
Graham Tomlin
The Revd Dr Graham Tomlin (D.Phil., Oxon) is the Dean of St Mellitus College, London. He has authored a number of books including The Power of the Cross: Theology and the Death of Christ in Paul, Luther and Pascal (Paternoster 1999), The Provocative Church(SPCK 2002), The Responsive Church,(Intervarsity Press, 2002), The Seven Deadly Sins and How to Overcome Them (Lion 2007), Luther and his World (Lion 2002), and Spiritual Fitness (Continuum, 2006).
Koorong -Editorial Review.