Luther and Katharina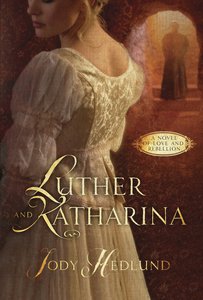 A Christy Award-winning novel chronicling the forbidden romance between Martin Luther and his wife, Katharina von Bora, set against the Protestant Reformation of the sixteenth century.

She was a nun of noble birth. He was a heretic, a reformer, and an outlaw of the Holy Roman Empire.

In the 16th century, nun Katharina von Bora's fate fell no further than the Abbey. Until she read the writings of Martin Luther. His sweeping Catholic church reformation-condemning a cloistered life and promoting the goodness of marriage-awakened her desire for everything she'd been forbidden. Including Martin Luther himself.

Despite the fact that the attraction and tension between them is undeniable, Luther holds fast to his convictions and remains isolated, refusing to risk anyone's life but his own. And Katharina longs for love, but is strong-willed. She clings proudly to her class distinction, pining for nobility over the heart of a reformer. They couldn't be more different.

But as the world comes tumbling down around them, and with Luther's threatened life a constant strain, these unlikely allies forge an unexpected bond of understanding, support and love. Together, they will alter the religious landscape forever.

- Christy Award: Historical Romance Fiction Winner

- Publisher
You May Also Be Interested In
About "Luther and Katharina"
A Christy Award-winning novel chronicling the forbidden romance between Martin Luther and his wife, Katharina von Bora, set against the Protestant Reformation of the sixteenth century.

She was a nun of noble birth. He was a heretic, a reformer, and an outlaw of the Holy Roman Empire.

In the 16th century, nun Katharina von Bora's fate fell no further than the Abbey. Until she read the writings of Martin Luther. His sweeping Catholic church reformation-condemning a cloistered life and promoting the goodness of marriage-awakened her desire for everything she'd been forbidden. Including Martin Luther himself.

Despite the fact that the attraction and tension between them is undeniable, Luther holds fast to his convictions and remains isolated, refusing to risk anyone's life but his own. And Katharina longs for love, but is strong-willed. She clings proudly to her class distinction, pining for nobility over the heart of a reformer. They couldn't be more different.

But as the world comes tumbling down around them, and with Luther's threatened life a constant strain, these unlikely allies forge an unexpected bond of understanding, support and love. Together, they will alter the religious landscape forever.

- Christy Award: Historical Romance Fiction Winner
- Publisher


Meet the Author
Jody Hedlund
Jody Hedlund is a best-selling and award-winning author. Among a variety of writing genres, she especially loves bringing long-forgotten women of history to life. She makes her home in Midland, Michigan with her husband and five busy children. When she's not writing, you can usually find Jody sipping coffee, eating chocolate, and reading.