Made Like Martha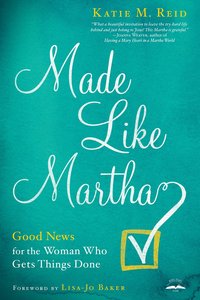 An invitation for overachievers to discover what it means to rest as God's daughters without compromising their God-given design as doers.

Though she didn't sit at Jesus's feet like her sister Mary, biblical Martha was loved just as she was--and you are too. This practical resource invites modern-day Marthas to sit down spiritually as they exchange try-hard striving for hope-filled freedom without abandoning their doer's heart in the process. Doers need to be affirmed in their innate design to do rather than sit, yet also be reminded that they don't have to overdo it in order to be worthy. This book is not an exhortation to add or subtract things off your to-do list, but it is an invitation to embrace the "good" of the Good News. Here is an offer to step into your position as a daughter of God and to enjoy life as a doer.

- Publisher
You May Also Be Interested In
About "Made Like Martha"
An invitation for overachievers to discover what it means to rest as God's daughters without compromising their God-given design as doers.

Though she didn't sit at Jesus's feet like her sister Mary, biblical Martha was loved just as she was--and you are too. This practical resource invites modern-day Marthas to sit down spiritually as they exchange try-hard striving for hope-filled freedom without abandoning their doer's heart in the process. Doers need to be affirmed in their innate design to do rather than sit, yet also be reminded that they don't have to overdo it in order to be worthy. This book is not an exhortation to add or subtract things off your to-do list, but it is an invitation to embrace the "good" of the Good News. Here is an offer to step into your position as a daughter of God and to enjoy life as a doer.
- Publisher


Meet the Author
Katie M Reid
Katie M. Reid is an author, speaker, and singer who encourages others to find grace in the unravelling of life at katiemreid.com. Katie's writing style is transparent, poetic, and reflective. She has published articles through: Focus on the Family, HuffPost, MOPS, LifeLines, iBelieve, and LightWorkers and is a contributor in Tales of Our Lives: Reflection Pond and the Five Minute Friday book. Her album, Echoes of My Heart, is also available for purchase. Katie delights in her hubby, five children, and their life in ministry. Hot or iced tea and cut-to-the-chase conversations are a few of her favourite things.