Made to Last (#01 in Where Love Begins Series)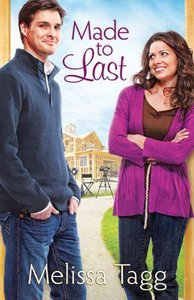 Spunky Contemporary Romance from a Sparkling New Talent

Miranda Woodruff, star of the homebuilding show From the Ground Up, will do anything to keep the job she loves. Due to a painful broken engagement and a faith she's mostly forgotten, she's let her entire identity become wrapped up in the Miranda everyone sees onscreen. So when she receives news that the network might cancel her program, she must do the very thing she fears most: let the spotlight shine on her closely guarded personal life. The only problem? She's been living a lie--letting viewers believe she's married--and now she's called upon to play wife to a sweet, if a bit goofy, pretend husband to boost ratings.

Desperate to help his family and prove he's not a total failure, reporter Matthew Knox is looking for a breakout story. When he's offered the opportunity to do an online serial feature on Miranda Woodruff, he jumps at the chance, even if celebrity reporting isn't really his thing. But as soon as he meets Miranda, he knows she's keeping secrets.

When Miranda's former fiance suddenly appears on the scene again, she doubts her life could get more complicated. Juggling three guys, an on-the-rocks television show, and the potential exposure of her deception is way more than she bargained for. Can the woman who makes things look so good onscreen admit it's time to tell the truth about who she is? And if she does, will the life Miranda's built come crashing down just as she's finally found a love to last?

- Publisher
You May Also Be Interested In
About "Made to Last (#01 in Where Love Begins Series)"
Spunky Contemporary Romance from a Sparkling New Talent

Miranda Woodruff, star of the homebuilding show From the Ground Up, will do anything to keep the job she loves. Due to a painful broken engagement and a faith she's mostly forgotten, she's let her entire identity become wrapped up in the Miranda everyone sees onscreen. So when she receives news that the network might cancel her program, she must do the very thing she fears most: let the spotlight shine on her closely guarded personal life. The only problem? She's been living a lie--letting viewers believe she's married--and now she's called upon to play wife to a sweet, if a bit goofy, pretend husband to boost ratings.

Desperate to help his family and prove he's not a total failure, reporter Matthew Knox is looking for a breakout story. When he's offered the opportunity to do an online serial feature on Miranda Woodruff, he jumps at the chance, even if celebrity reporting isn't really his thing. But as soon as he meets Miranda, he knows she's keeping secrets.

When Miranda's former fiance suddenly appears on the scene again, she doubts her life could get more complicated. Juggling three guys, an on-the-rocks television show, and the potential exposure of her deception is way more than she bargained for. Can the woman who makes things look so good onscreen admit it's time to tell the truth about who she is? And if she does, will the life Miranda's built come crashing down just as she's finally found a love to last?
- Publisher


Meet the Author
Melissa Tagg
Melissa Tagg is a former reporter and total Iowa girl. In addition to her homeless ministry day job, she is also the marketing/events coordinator for My Book Therapy, a craft-and-coaching community for writers. When she's not writing, she can be found hanging out with the coolest family ever, watching old movies, and daydreaming about her next book. She's passionate about humor, grace, and happy endings. Melissa blogs regularly and loves connecting with readers at www.melissatagg.com. A
Media
Customer Reviews For "Made to Last (#01 in Where Love Begins Series)"
Write Your Own Review
fun and sweet
By Marija,

Aug 23 2017
Made to Last is a fun, sweet novel that is perfect for a lazy afternoon's read. Miranda Woodruff is a fun, engaging character who is stuck in a web of deception, and riddled with guilt and insecurities. But with her good friends, and some rather hilarious scenarios, she is able make things right and hand over her fears to God. 
---
disappointing
By Ibu Guru,

Sep 12 2015
Reading the gushing reviews about this book ..."fun, a must for fans of romantic comedy, laugh out loud humour" etc made it sound perfect for me.  Perhaps there is something wrong with my sense of humor, but I don't find professing Christians who constantly lie, and toss their intimate partners aside etc terribly funny. The Biblical principal to avoid even the appearance of evil does not seem to be in the author's Bible or don't modern people think that 2 single people of the opposite sex sharing a 1 bedroom house  appears as if there may be something illicit going on?  In my world, being chaste is the exception rather than the rule for young people.  I guess this book was written for fans of sit-coms like Friends or Seinfeld so that a bit of spiritual truth could be expressed in the story.
---
Engaging reading
By Jacqui,

Apr 01 2015
I loved this book from the beginning to the end. I became so absorbed with all the characters and the story line that my emotions were still living the book a couple of days after I finished it.  Every character in this story is engaging and believable. I love the realistic emotions that are portrayed as Miranda works out whom she is and deals with past pain and rejection.  Although a fiction book it is a beautiful depiction of how friends can support, believe in and encourage one another through the difficulties of life.  I want to read more by this author, especially the continuing stories of some of the characters
---
Sweet Romance
By Hannah,

Jan 19 2015
Absolutely loved this book! Usually in romances, I fall in love with the guy (doesn't every girl? That's the point... right?). Don't get me wrong, the guy (or rather, guys!) in this one were great fun but my favourite character by far was definitely the heroine, Miranda. To say she's in a sticky situation is a bit of an understatement - her job and the jobs of a whole crew of others, depend on her agreeing to a fake marriage and somehow pulling it off to the scores of people following her every move in celebrity magazines and blogs. Only the lies keep compounding and she's slowly falling in love with a man who isn't her (fake) husband... I loved the growth she went through throughout the book, how the author didn't gloss over the weight of the decisions to be made but really dealt with them in a way that felt real. Great book from a great new author!
---
Found a great new author.
By Rochelle, NSW,

Jun 03 2014
Made to Last is #1 in the Where Love Begins series by new Author Melissa Tagg. I was quickly captured by the fun, comedic, there's more here Characters that have been thoughtfully and lovingly written.
Miranda Woodruff is not yet ready to move on from a love lost but her Manager and producer need her to insure the 'show must go on'. She doesn't fake what she can build but she's about to reveal a fake .... You'll have to read it!
Matthew Knox just keeps adding to his messed up life with one stuff up topping it off with a 'blew it' moment that keeps him tangling the bed sheets instead of sleeping ... He's handed a last chance story to prove to himself he can be successful in journalism and to help his brothers family out financially.
What he finds is a heart tangling Miranda. Can he untangle with story but, can he live with what his job requires or make the right decision for Miranda .... Can they both find who God created them to be ....
This story grabbed my heart and filled a couple of afternoons with entertainment the way I like it .... With my nose in a good book! Don't forget the chocolate though. I know you'll love it.
{{review.title}}
By {{review.author.name}},

{{review.reviewCreatedDate | date:'MMM dd yyyy'}}

{{reviewdescription}}
{{review.text}}
---
Other Titles In The "Where Love Begins Series" Series