Made Well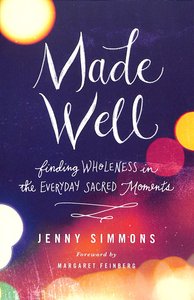 :Finding Wholeness through Tears, Joys, and the Everyday

From the woman fighting cancer to the man who has lost his child to the girl sinking into depression, so many of us are engaged in daily battles as we long for healing. When he walked the earth, Jesus said to an unwell man, "Do you want to be made well?" His invitation stretched beyond physical healing--he sought to restore the soul. The same invitation stands for us today.

For anyone struggling on the journey toward wholeness, singer/songwriter Jenny Simmons offers a resting place and a friend along the way. With personal insight into emotional pain, she invites readers to encounter a God who is working out their restoration--often in surprising "half-baked" ways. Her humorous and inspirational prose lights a path toward wholeness. Anyone trying to find their way to spiritual, mental, and emotional healing will benefit from Jenny's vulnerable and compassionate stories of being made well in the midst of a messy life.

- Publisher
You May Also Be Interested In
About "Made Well"
:Finding Wholeness through Tears, Joys, and the Everyday

From the woman fighting cancer to the man who has lost his child to the girl sinking into depression, so many of us are engaged in daily battles as we long for healing. When he walked the earth, Jesus said to an unwell man, "Do you want to be made well?" His invitation stretched beyond physical healing--he sought to restore the soul. The same invitation stands for us today.

For anyone struggling on the journey toward wholeness, singer/songwriter Jenny Simmons offers a resting place and a friend along the way. With personal insight into emotional pain, she invites readers to encounter a God who is working out their restoration--often in surprising "half-baked" ways. Her humorous and inspirational prose lights a path toward wholeness. Anyone trying to find their way to spiritual, mental, and emotional healing will benefit from Jenny's vulnerable and compassionate stories of being made well in the midst of a messy life.
- Publisher


Meet the Author
Jenny Simmons
Jenny Simmons travels the country with her husband Ryan, daughter Annie, and her good friends in the band Addison Road. When she is not performing, she's eating. Or talking to someone. Watching football. Reading a book. Taking pictures. Or playing with her little girl. She loves meeting new people and listening to their stories over a good cup of coffee. She values her faith, her family, her friends, and her platform. Jenny's niche is her raw honesty, uncomfortable vulnerability, whimsical storytelling, and her deep love for people. Her blog, Cupcakes, Sprinkles, and Other Happy Things, attracts readers from all over the world and her band has been making music for over ten years. Jenny and Ryan live with their daughter in Irving, Texas.
Customer Reviews For "Made Well"
Write Your Own Review
Healing is a book with many chapters
By Iola,

Oct 25 2016
Made Well is challenging our views on healing, pointing out that healing is often a process rather than an act, and that it can come in many forms. It's not one of those self-help books promising health or wealth or happiness if you follow the author's formula. Rather, it's an exploration of the healing journey. 

She doesn't discount the possibility of instantaneous miraculous healing, although she says she hasn't experienced it for herself. That may be true, but I'd say that she's been used in the miraculous healing of others, and she's learned many things about healing that those who are intent on seeking the instant will miss out on.

It's a valid point: Jesus said to seek him, to seek the Kingdom of God. Not to seek healing. Do we make healing into an idol?

One review I read of Made Well recommended it to fans of Ann Voskamp. That may well fit, but I personally didn't get in to Ann Voskamp's style. But I still found Made Well to be well worth reading - thought provoking, and written from the heart. Recommended.

Thanks to Baker Books and NetGalley for providing a free ebook for review.
{{review.title}}
By {{review.author.name}},

{{review.reviewCreatedDate | date:'MMM dd yyyy'}}

{{reviewdescription}}
{{review.text}}
---