Maid to Match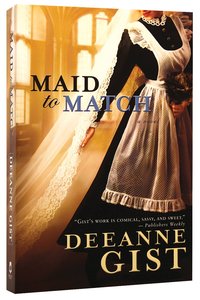 From the day she arrives at the Biltmore, Tillie Reese is dazzled by the riches of the Vanderbilts and by Mack Danvers, a mountain man turned footman. When Tillie is enlisted to help tame Mack's rugged behavior by tutoring him in the ways of refined society, the resulting sparks threaten Tillie's efforts to be chosen as Edith Vanderbilt's lady's maid. But the stakes rise even higher when Mack and Tillie become entangled in a cover-up at the town orphanage. They could both lose their jobs...and their hearts.



- Publisher From Maid to MatchLet there be light.Tillie pushed the familiar white button. Electric lights flared, illuminating a room so long it could hold two modest houses. Several groupings of sage brocade sofas and chairs filled the area. Huge tapestries lined one wall. Opposite them, stood a wall of windows and French doors.The soft hum of the Edison bulbs bid her good morning. The thrill and miracle of the electric lights never failed to stir her. She held her breath. Felt her heart hammering in her breast. And allowed the thought she'd been hiding since last night to fully form in her head.Benedicte was leaving. Returning to France. Leaving the new Mrs. Vanderbilt without a lady's maid.A lady's maid. Next to housekeeper, the highest ranking position for a woman. The servant who had morning tea brought to her by the first housemaid while the second housemaid made up a fire in her room.Who was free to take a bath as often as she liked. Who traveled with Mrs. Vanderbilt. Who read books--books!--aloud to Mrs. Vanderbilt. Who was required to dress in the same fashions as Mrs. Vanderbilt. Best of all, a lady's maid earned quite a bit more money, so she could help her family and others in the community who were in need. Tillie, as head parlor maid, would surely be considered for the position. The housekeeper had requested a private audience with her before breakfast. Lord willing, it was to discuss just that.After hugging the thought one last time, she carefully returned it to the recesses of her mind. Dawdling in fantasies when she should be setting the gallery to rights was no way to put her best foot forward. If the entire first floor was to be in complete readiness before the master and his bride descended for the day, she'd best get busy.

- Publisher
You May Also Be Interested In
About "Maid to Match"
From the day she arrives at the Biltmore, Tillie Reese is dazzled by the riches of the Vanderbilts and by Mack Danvers, a mountain man turned footman. When Tillie is enlisted to help tame Mack's rugged behavior by tutoring him in the ways of refined society, the resulting sparks threaten Tillie's efforts to be chosen as Edith Vanderbilt's lady's maid. But the stakes rise even higher when Mack and Tillie become entangled in a cover-up at the town orphanage. They could both lose their jobs...and their hearts.


- Publisher

From Maid to MatchLet there be light.Tillie pushed the familiar white button. Electric lights flared, illuminating a room so long it could hold two modest houses. Several groupings of sage brocade sofas and chairs filled the area. Huge tapestries lined one wall. Opposite them, stood a wall of windows and French doors.The soft hum of the Edison bulbs bid her good morning. The thrill and miracle of the electric lights never failed to stir her. She held her breath. Felt her heart hammering in her breast. And allowed the thought she'd been hiding since last night to fully form in her head.Benedicte was leaving. Returning to France. Leaving the new Mrs. Vanderbilt without a lady's maid.A lady's maid. Next to housekeeper, the highest ranking position for a woman. The servant who had morning tea brought to her by the first housemaid while the second housemaid made up a fire in her room.Who was free to take a bath as often as she liked. Who traveled with Mrs. Vanderbilt. Who read books--books!--aloud to Mrs. Vanderbilt. Who was required to dress in the same fashions as Mrs. Vanderbilt. Best of all, a lady's maid earned quite a bit more money, so she could help her family and others in the community who were in need. Tillie, as head parlor maid, would surely be considered for the position. The housekeeper had requested a private audience with her before breakfast. Lord willing, it was to discuss just that.After hugging the thought one last time, she carefully returned it to the recesses of her mind. Dawdling in fantasies when she should be setting the gallery to rights was no way to put her best foot forward. If the entire first floor was to be in complete readiness before the master and his bride descended for the day, she'd best get busy.
- Publisher


Meet the Author
Deeanne Gist
Deeanne Gist, the bestselling author of A Bride Most Begrudging and The Measure of a Lady, has a background in education and journalism. Her credits include People magazine, Parents, and Parenting. With a line of parenting products called "I Did It! Productions" and a degree from Texas A and M, she continues her writing and speaking. She and her family live in Houston, Texas. Visit Deeanne's Web site at www.deeannegist.com
Customer Reviews For "Maid to Match"
Write Your Own Review
For Downton Abbey fans
By Kamya,

Sep 23 2018
This delightful, easy read is thoroughly enjoyable.  The characters are immediately engaging and throughout I had images of Downton Abby staff in my mind - albeit this is the American equivalent!
The plot developed well and the ending was very satisfying.  This is my first Deeanne Gist read and I will certainly be seeking more of hers out now. 

{{review.title}}
By {{review.author.name}},

{{review.reviewCreatedDate | date:'MMM dd yyyy'}}

{{reviewdescription}}
{{review.text}}
---