Make Poverty Personal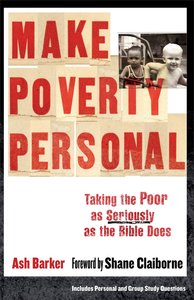 Poverty is one of the great challenges of the 21st century. But poverty is not new. And neither is God's deep concern for the poor--it is a theme deeply woven throughout the Bible. Yet sadly, churches and individual Christians have too often been blind to this emphasis, or they have been paralyzed into inaction by feelings of helplessness.

In this urgent, provocative book, Ash Barker offers both challenge and hope. Pulling out and reflecting on significant passages from both testaments, he reveals what the Bible says about both the nature of poverty and about how God calls his people to respond. These studies, ideal for either individual or small group use, are interlaced with personal reflections--first-hand accounts from fifteen years of ministry among the poor.

- Publisher
You May Also Be Interested In
About "Make Poverty Personal"
Poverty is one of the great challenges of the 21st century. But poverty is not new. And neither is God's deep concern for the poor--it is a theme deeply woven throughout the Bible. Yet sadly, churches and individual Christians have too often been blind to this emphasis, or they have been paralyzed into inaction by feelings of helplessness.

In this urgent, provocative book, Ash Barker offers both challenge and hope. Pulling out and reflecting on significant passages from both testaments, he reveals what the Bible says about both the nature of poverty and about how God calls his people to respond. These studies, ideal for either individual or small group use, are interlaced with personal reflections--first-hand accounts from fifteen years of ministry among the poor.
- Publisher


Meet the Author
Ashley Barker
Ash and Anji Barker, founders of UNOH, and their children Amy & Aiden live among the poor in the Bangkok slum of Klong Toey. Like all UNOHs workers, the Barkers have a passion to love God and neighbour so much that the urban neighbourhoods they live in become like villages centred on Christ. Ashley is the International Director of UNOH with UNOH chapters in Bangkok, Melbourne and Sydney. He has authored Making Poverty Personal, Collective Witness: A theology and praxis for a missionary order and Finding Life: Reflections from a Bangkok Slum.