Make Room For Your Miracle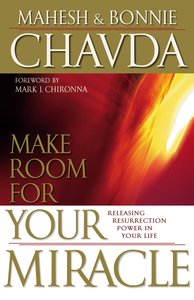 What do you do when your hopes and dreams seem to die? Mahesh and Bonnie Chavda, two respected international leaders, contend that for Christians, this doesn't need to be a time of discouragement. Instead, as believers learn to welcome the anointing presence of Jesus, any valley can be transformed into a place of miracles.

The Chavdas focus on the Shuammite woman in 2 Kings, who was given, and then lost, and then received back again her young son. First narrating and then exploring this account of death and restoration, the Chavdas encourage readers to face their broken dreams and make room for Jesus' resurrection power. As believers recognize the possibility of the impossible, refusing to let go of the Presence, God can bring even the most hopeless dream to life.

- Publisher
You May Also Be Interested In
About "Make Room For Your Miracle"
What do you do when your hopes and dreams seem to die? Mahesh and Bonnie Chavda, two respected international leaders, contend that for Christians, this doesn't need to be a time of discouragement. Instead, as believers learn to welcome the anointing presence of Jesus, any valley can be transformed into a place of miracles.

The Chavdas focus on the Shuammite woman in 2 Kings, who was given, and then lost, and then received back again her young son. First narrating and then exploring this account of death and restoration, the Chavdas encourage readers to face their broken dreams and make room for Jesus' resurrection power. As believers recognize the possibility of the impossible, refusing to let go of the Presence, God can bring even the most hopeless dream to life.
- Publisher


Meet the Authors
Bonnie Chavda
Chavda is associate pastor of All Nations Church in Charlotte, North Carolina. She serves on the editorial advisory board of SpiritLed Woman Magazine.
Mahesh Chavda
Mahesh Chavda grew up in Mombasa, Kenya, the son of a prominent Hindu teacher. At age sixteen he had a dramatic encounter with Christ and committed his heart to Jesus. Bonnie Chavda is executive director of Mahesh Chavda Ministries International. She has served with her evangelist husband in global mission work since 1980. Together they have written numerous bestsellers, including Only Love Can Make a Miracle; Make Room for Your Miracle: Releasing Resurrection Power in Your Life; Storm Warrior: A Believer's Strategy for Victory and have led more than 750,000 people to Christ around the world. Mahesh and Bonnie are cofounders and senior pastors of All Nations Church in Charlotte, North Carolina.