Making Children Mind Without Losing Yours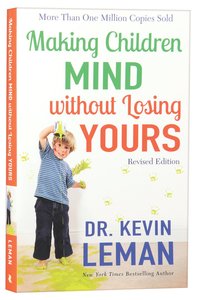 :We've seen the enemy, and they're small ... and unionized.

If anyone understands why children behave the way they do, it's internationally known psychologist and New York Times bestselling author Dr. Kevin Leman. Using the 7 principles of reality discipline, this father of five and grandfather of four reveals a practical, action-oriented game plan to

- get kids to listen to parents
- encourage healthy attitudes and two-way communication
- turn off temper tantrums, minimize sibling rivalries, and foil finicky eaters
- put parents back in the driver's seat
- prompt long-lasting, positive behavior and instill values
- rear respectful, well-behaved children who become responsible difference makers in the world

Thought-provoking questions at the end of each chapter and Dr. Leman's real-life examples give readers sure-fire techniques for developing a loving, no-nonsense approach for rearing children. With over a million satisfied customers, parents can't go wrong with this classic, perennial bestseller.

- Publisher
You May Also Be Interested In
About "Making Children Mind Without Losing Yours"
:We've seen the enemy, and they're small ... and unionized.

If anyone understands why children behave the way they do, it's internationally known psychologist and New York Times bestselling author Dr. Kevin Leman. Using the 7 principles of reality discipline, this father of five and grandfather of four reveals a practical, action-oriented game plan to

- get kids to listen to parents
- encourage healthy attitudes and two-way communication
- turn off temper tantrums, minimize sibling rivalries, and foil finicky eaters
- put parents back in the driver's seat
- prompt long-lasting, positive behavior and instill values
- rear respectful, well-behaved children who become responsible difference makers in the world

Thought-provoking questions at the end of each chapter and Dr. Leman's real-life examples give readers sure-fire techniques for developing a loving, no-nonsense approach for rearing children. With over a million satisfied customers, parents can't go wrong with this classic, perennial bestseller.
- Publisher


Meet the Author
Kevin Leman
Dr. Kevin Leman, an internationally known psychologist, radio and television personality, and speaker, has taught and entertained audiences worldwide with his wit and commonsense psychology.

The best-selling and award-winning author has made house calls for hundreds of radio and television programs, including The View with Barbara Walters, The Today Show, Oprah, CBS's The Early Show, Live with Regis Philbin, CNN's American Morning, and LIFE Today with James Robison, and he has served as a contributing family psychologist to Good Morning America.

He is the founder and president of Couples of Promise, an organization designed and committed to helping couples remain happily married. Dr. Leman is also a charter faculty member of iQuestions.com.

He has written over 50 best-selling books about marriage and family issues, including The Birth Order Book and Sheet Music: Uncovering the Secrets of Sexual Intimacy in Marriage.

Dr. Leman was born in 1943 in Tucson, Arizona, and earned his degree in psychology from the University of Arizona. He and his wife, Sande, make their home in Tucson. They have been married since 1967, and have five adult children.