Making Children Mind Without Losing Yours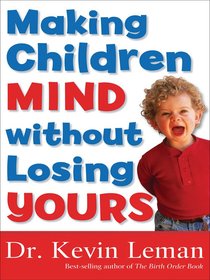 Raising children these days can be daunting. But if anyone understands why children behave the way they do, it's Dr. Kevin Leman. Equipping parents with seven principles of Reality Discipline--a loving no-nonsense parenting approach that really works--this internationally known psychologist, author, and father of five shows parents how to

- understand why children misbehave and what to do about it
- foil finicky eaters, turn off temper tantrums, and minimize sibling rivalries
- set suitable allowances, curfews, and privileges
- and much more

Real-life examples, questions at the end of each chapter, and a discussion guide for individual or group use make this book an engaging read for parents, teachers, and child care providers. With over a million copies in print, readers can't go wrong with this classic and continual best-seller-now in a fun, new package.

- Publisher
You May Also Be Interested In
About "Making Children Mind Without Losing Yours"
Raising children these days can be daunting. But if anyone understands why children behave the way they do, it's Dr. Kevin Leman. Equipping parents with seven principles of Reality Discipline--a loving no-nonsense parenting approach that really works--this internationally known psychologist, author, and father of five shows parents how to

- understand why children misbehave and what to do about it
- foil finicky eaters, turn off temper tantrums, and minimize sibling rivalries
- set suitable allowances, curfews, and privileges
- and much more

Real-life examples, questions at the end of each chapter, and a discussion guide for individual or group use make this book an engaging read for parents, teachers, and child care providers. With over a million copies in print, readers can't go wrong with this classic and continual best-seller-now in a fun, new package.
- Publisher


Meet the Author
Kevin Leman
Dr. Kevin Leman, an internationally known psychologist, radio and television personality, and speaker, has taught and entertained audiences worldwide with his wit and commonsense psychology.

The best-selling and award-winning author has made house calls for hundreds of radio and television programs, including The View with Barbara Walters, The Today Show, Oprah, CBS's The Early Show, Live with Regis Philbin, CNN's American Morning, and LIFE Today with James Robison, and he has served as a contributing family psychologist to Good Morning America.

He is the founder and president of Couples of Promise, an organization designed and committed to helping couples remain happily married. Dr. Leman is also a charter faculty member of iQuestions.com.

He has written over 50 best-selling books about marriage and family issues, including The Birth Order Book and Sheet Music: Uncovering the Secrets of Sexual Intimacy in Marriage.

Dr. Leman was born in 1943 in Tucson, Arizona, and earned his degree in psychology from the University of Arizona. He and his wife, Sande, make their home in Tucson. They have been married since 1967, and have five adult children.