Making Peace With Your Past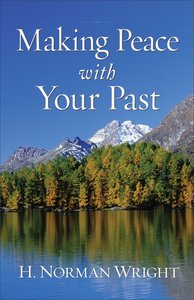 Much of who we are, what we do, and how we feel is determined by our past. Whether they're relationships from our childhood or pressures from recent years, the events of the past can have a significant impact on our current behavior.

A continual bestseller now re-launched with a new look for new readers, this insightful and perceptive book shows readers how to face and move beyond the negative events and feelings of their past. Writing from a compassionate, Christian perspective, H. Norman Wright helps readers understand who they are, who is responsible for their character, and how they can let go of the things of the past in order to live with confidence and enthusiasm.

- Publisher
You May Also Be Interested In
About "Making Peace With Your Past"
Much of who we are, what we do, and how we feel is determined by our past. Whether they're relationships from our childhood or pressures from recent years, the events of the past can have a significant impact on our current behavior.

A continual bestseller now re-launched with a new look for new readers, this insightful and perceptive book shows readers how to face and move beyond the negative events and feelings of their past. Writing from a compassionate, Christian perspective, H. Norman Wright helps readers understand who they are, who is responsible for their character, and how they can let go of the things of the past in order to live with confidence and enthusiasm.
- Publisher


Meet the Author
H Norman Wright
Dr. H. Norman Wright is one of America's most prominent Christian counselors. He is a licensed Marriage, Family and Child Therapist. Dr. Wright is a graduate of Westmont College, Fuller Theological Seminary (M.R.E.), Pepperdine University (M.A.). He has written numerous best-selling books on Communication, Family and Parenting. His titles include Communication: Key to Your Marriage; Always Daddy's Girl; Quiet Times for Couples; The Power of a Parent's Words and the Premarital Counseling Handbook. Dr. Wright is currently on the faculty of the Talbot School of Theology and was the former director of their Graduate Department of Marriage, Family and Child Counseling.