Making Sense of the New Testament (Three Crucial Questions Series)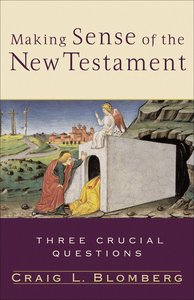 The New Testament is the foundation of the Christian church, but some question its historical accuracy. Others have claimed that Paul's teaching differs from that of the Gospels. How can we reconcile the seemingly different messages of Jesus and Paul? What is the relevance of the New Testament in our world today, in cultures far removed by time and space from the first-century Mediterranean world? What principles can we use to make appropriate applications?
In Making Sense of the New Testament, Craig Blomberg offers a reasonable, well-informed response to these crucial questions encountered by Bible readers. Grounded in sound scholarship but written in an accessible style, this book offers reliable guidance to pastors, students, and anyone interested in a better understanding of the New Testament.

- Publisher
You May Also Be Interested In
About "Making Sense of the New Testament (Three Crucial Questions Series)"
The New Testament is the foundation of the Christian church, but some question its historical accuracy. Others have claimed that Paul's teaching differs from that of the Gospels. How can we reconcile the seemingly different messages of Jesus and Paul? What is the relevance of the New Testament in our world today, in cultures far removed by time and space from the first-century Mediterranean world? What principles can we use to make appropriate applications?
In Making Sense of the New Testament, Craig Blomberg offers a reasonable, well-informed response to these crucial questions encountered by Bible readers. Grounded in sound scholarship but written in an accessible style, this book offers reliable guidance to pastors, students, and anyone interested in a better understanding of the New Testament.
- Publisher


Meet the Author
Craig L Blomberg
Dr. Craig Blomberg (Ph.D., University of Aberdeen) is currently a distinguished professor of New Testament at Denver Seminary, before joining the faculty he taught at Palm Beach Atlantic College and was a research fellow in Cambridge, England with Tyndale House.
In addition to writing numerous articles in professional journals, multi-author works and dictionaries or encyclopaedias, he has authored or edited 15 books, including The Historical Reliability of the Gospels, Interpreting the Parables, Matthew (New American Commentary series), 1 Corinthians (NIV Application Commentary series), Jesus and the Gospels: An Introduction and Survey, Neither Poverty nor Riches: A Biblical Theology of Posessions, Making Sense of the New Testament, Preaching the Parables, and Contagious Holiness: Jesus Meals with Sinners.
Koorong -Editorial Review.
Other Titles In The "Three Crucial Questions" Series
$40.99




Order now to secure your copy when our stock arrives. eBook is Available. 0 Available. Expected to ship in 6 to 7 weeks from Australia.

$32.99




Order now to secure your copy when our stock arrives. 0 Available. Expected to ship in 6 to 7 weeks from Australia.

Formats