Making Trouble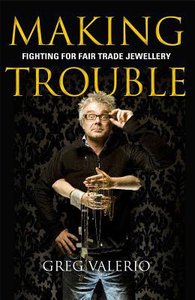 Fair trade jewellery has been around for a while - but while those crafting it worked under Fair Trade principles, the gold, silver and precious stones they were using came from some very murky places. Small scale mining is the second biggest global employer, and many of those mines pay a pittance, forcing their workers to labour long hours in dirty and dangerous conditions - for a pittance. Informed by those in the jewellery trade that this would never change, Greg Valerio set out to prove them wrong. Fairly traded gold is now available in the UK, although the battle continues for other metals and products.

- Publisher
You May Also Be Interested In
About "Making Trouble"
Fair trade jewellery has been around for a while - but while those crafting it worked under Fair Trade principles, the gold, silver and precious stones they were using came from some very murky places. Small scale mining is the second biggest global employer, and many of those mines pay a pittance, forcing their workers to labour long hours in dirty and dangerous conditions - for a pittance. Informed by those in the jewellery trade that this would never change, Greg Valerio set out to prove them wrong. Fairly traded gold is now available in the UK, although the battle continues for other metals and products.
- Publisher


Meet the Author
Greg Valerio
Greg Valerio is the founder of CRED Jewellery and co-founder of Fair Jewellery Action. After a long but successful campaign to produce fairly traded gold, he won the Global Campaigner Observer Ethical Awards for 2011. He currently serves on the Fairtrade & Fairmined Gold technical committee helping develop the standards for FT/FM Gold and is also an initiator and committee member of the British Jewellers Association and National Association of Goldsmiths ethics working group. He acts as an adviser to the Diamond Development Initiative.