Manhood: Navigating the Mind Fields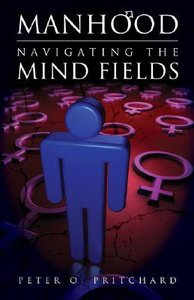 Marketing Strengths: A series of thirty-one devotionals that may be read in one months or repeated monthly through the year. A study guide accompanies each devotional. 47% of pastors struggle with pornography addictions 60% of men have indulged in an extramarital affair 50% of Christian men are addicted to internet pornography

- Publisher Todays Christian men are bombarded with sexual temptations from the Internet, television, movies, and the whole sensually explicit culture. Peter Pritchard offers thirty-one daily devotional readings targeted to men seeking victory over temptation and concerned with producing lives of greater purity of thought and behavior. Manhood: Navigating the Mind Fields will guide the reader to: clearly identify the temptations of Potiphars wife in his own life. defend himself against those temptations through a deep commitment to the Scriptures. subject his mind to the teachings and example of Jesus Christ.

- Publisher
You May Also Be Interested In
About "Manhood: Navigating the Mind Fields"
Marketing Strengths: A series of thirty-one devotionals that may be read in one months or repeated monthly through the year. A study guide accompanies each devotional. 47% of pastors struggle with pornography addictions 60% of men have indulged in an extramarital affair 50% of Christian men are addicted to internet pornography
- Publisher

Todays Christian men are bombarded with sexual temptations from the Internet, television, movies, and the whole sensually explicit culture. Peter Pritchard offers thirty-one daily devotional readings targeted to men seeking victory over temptation and concerned with producing lives of greater purity of thought and behavior. Manhood: Navigating the Mind Fields will guide the reader to: clearly identify the temptations of Potiphars wife in his own life. defend himself against those temptations through a deep commitment to the Scriptures. subject his mind to the teachings and example of Jesus Christ.
- Publisher


Meet the Author
Peter Pritchard
Peter Pritchard has been an executive recruiter by profession for over twenty years and has concurrently been a servant-leasder in the church as a deacon, elder, and associate pastor. Since coming to the faith at age fourteen, he has always had a burden for bringing others to a personal relationslhip with Christ. In 1999, he graduated with a Master of Divinity degree from Ashland Theological Seminary in Ohio and was ordained to the ministry the following morning. He and his wife, Junie, were married in 1981, and have four children.