Mark (Straight To The Heart Of Series)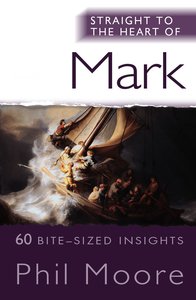 Mark's gospel reveals the exhilarating highs and lows of what it would have felt like to be one of the twelve disciples of Jesus. Mark listened to Peter as he preached the story of Jesus throughout the Roman Empire, then he wrote it down. Mark wants the reader to experience what it was like for Peter and his friends when Jesus called them to leave their old lives behind and step into His story. Mark 1:1 to 7:23 is set in Galilee and it recounts the early days after Peter was invited to play a part in the Messiah's story. Mark 7:24 to 9:29 is set amongst the pagans and it chronicles Peter's growing realisation that what is happening in Israel is the world's story. Mark 9:30 to 10:52 takes place on the road to Jerusalem and charts Peter's growing awareness that it is going to be a costly story. Mark 11 to 15 records the week leading up to Jesus' death and marvels at the fact that this is a surprising story. Mark 16 is the grand finale of the gospel, describing Peter's mixture of fear and delight as he finds Jesus' tomb empty and realises that he has been called to continue an unfinished story.Straight to the Heart of Mark is one of a series of devotional commentaries which allows people to get to grips with each book of the Bible one bite at a time. Each book contains 60 punchy and relevant chapters, crammed with fascinating and accessible scholarship.

- Publisher
You May Also Be Interested In
About "Mark (Straight To The Heart Of Series)"
Mark's gospel reveals the exhilarating highs and lows of what it would have felt like to be one of the twelve disciples of Jesus. Mark listened to Peter as he preached the story of Jesus throughout the Roman Empire, then he wrote it down. Mark wants the reader to experience what it was like for Peter and his friends when Jesus called them to leave their old lives behind and step into His story. Mark 1:1 to 7:23 is set in Galilee and it recounts the early days after Peter was invited to play a part in the Messiah's story. Mark 7:24 to 9:29 is set amongst the pagans and it chronicles Peter's growing realisation that what is happening in Israel is the world's story. Mark 9:30 to 10:52 takes place on the road to Jerusalem and charts Peter's growing awareness that it is going to be a costly story. Mark 11 to 15 records the week leading up to Jesus' death and marvels at the fact that this is a surprising story. Mark 16 is the grand finale of the gospel, describing Peter's mixture of fear and delight as he finds Jesus' tomb empty and realises that he has been called to continue an unfinished story.Straight to the Heart of Mark is one of a series of devotional commentaries which allows people to get to grips with each book of the Bible one bite at a time. Each book contains 60 punchy and relevant chapters, crammed with fascinating and accessible scholarship.
- Publisher


Meet the Author
Phil Moore
Phil Moore leads Queens Road Church in Wimbledon, London, UK. He also serves as a Bible teacher and evangelist within the Newfrontiers family of churches. He is the author of the "Straight to the Heart" series of devotional commentaries.
After graduating from Cambridge University, Phil spent time on the mission field and then in the business world. He has devoted many years to the Hebrew and Greek Scriptures, and he brings them to life in the language of today in the Straight to the Heart series. The first three volumes - Matthew, Acts and Revelation - were published in July 2010. Genesis and 1&2 Corinthians will be published in November 2010.
Phil is married to Ruth and they have three young children. Together, they love eating strange and exotic food, watching movies with lots of popcorn, and reading books by Roald Dahl. Phil's children complain that his own books do not contain enough pictures, talking animals or chocolate factories.
Other Titles In The "Straight To The Heart Of" Series View All