Mark (Understanding The Books Of The Bible Series)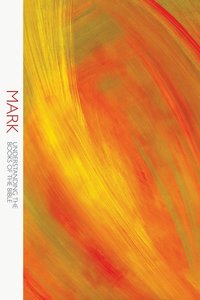 In his Gospel, Mark doesn't tell us much about himself. Scholars have managed to glean information about him from the text--like the fact that he was a good friend of Simon Peter's--but Mark himself is not very forthcoming about where he's writing from or even the audience he's writing his Gospel for. The reason, perhaps, is because the story he's telling is not about himself. His story is all about Jesus. This new guide in the Understanding the Books of the Bible series will help you grasp Jesus' passion and power as well as the urgency and beauty of the kingdom he brought to earth. But Mark's fast-paced narrative doesn't just tell a story; it also asks a question. Will you fully give your life to Jesus? Will you join his kingdom for the long-haul? Or will you choose fear, wealth or power over him, and miss out on the abundant life--the peace, the joy, the purpose--he gives? The answer is as important today as it was for Mark's original audience. Let this fresh approach to Mark's masterfully written Gospel help you see a fuller picture of Jesus, and let Jesus lead you more fully into life in his kingdom. The Understanding the Books of the Bible series moves groups away from a typical Bible study format into a new approach to experiencing the Bible together. Instead of following artificial chapter and verse divisions, these study guides lead groups through whole books following their natural outlines and flow. They pose engaging questions for discussion with personal implications all along the way, leading to a community Bible experience.

- Publisher
You May Also Be Interested In
About "Mark (Understanding The Books Of The Bible Series)"
In his Gospel, Mark doesn't tell us much about himself. Scholars have managed to glean information about him from the text--like the fact that he was a good friend of Simon Peter's--but Mark himself is not very forthcoming about where he's writing from or even the audience he's writing his Gospel for. The reason, perhaps, is because the story he's telling is not about himself. His story is all about Jesus. This new guide in the Understanding the Books of the Bible series will help you grasp Jesus' passion and power as well as the urgency and beauty of the kingdom he brought to earth. But Mark's fast-paced narrative doesn't just tell a story; it also asks a question. Will you fully give your life to Jesus? Will you join his kingdom for the long-haul? Or will you choose fear, wealth or power over him, and miss out on the abundant life--the peace, the joy, the purpose--he gives? The answer is as important today as it was for Mark's original audience. Let this fresh approach to Mark's masterfully written Gospel help you see a fuller picture of Jesus, and let Jesus lead you more fully into life in his kingdom. The Understanding the Books of the Bible series moves groups away from a typical Bible study format into a new approach to experiencing the Bible together. Instead of following artificial chapter and verse divisions, these study guides lead groups through whole books following their natural outlines and flow. They pose engaging questions for discussion with personal implications all along the way, leading to a community Bible experience.
- Publisher


Meet the Author
Christopher Smith
Rev. Dr. Christopher Smith (Ph.D., Boston College and Andover Newton Theological School) is Pastor of the University Baptist Church of East Lansing, Michigan (American Baptist). His articles have appeared in such publications as The Journal for the Study of the Old Testament, New Testament Studies, Novum Testamentum, and Vigilae Christianae.


He was a consulting editor to Biblica for The Books of The Bible, an edition of the Scriptures that presents the Bible without chapters and verses. One of the translators for The Voice, a contemporary version of the Bible that will be published in 2010
His other books include The Beauty Behind the Mask; The Books of The Bible (contributing editor), and After Chapters and Verses .
Table Of Contents
How These Study Guides Are Different

Outline Of Mark

Map Of Places Mentioned In Mark

1. Experiencing The Book Of Mark As A Whole

2. Mark Introduces Jesus As The Messiah And The Son Of God

3. Jesus Proclaims God's Coming Kingdom By Teaching, Healing, And Delivering

4. The Religious Leaders Challenge Jesus' Teachings And Activities

5. Jesus Appoints Twelve Disciples And His Family Joins The Opposition

6. Jesus Tells Parables About His Message, His Identity, And The Kingdom Of God

7. Jesus Calms A Storm And Drives Out A Legion Of Demons

8. Jesus Does Two More Great Miracles, But He's Rejected In His Home Town

9. Jesus Sends His Disciples Out And Mark Reports The Fate Of John The Baptist

10. Jesus Feeds Five Thousand People And Walks On The Water

11. Jesus Declares All Foods Clean And Ministers Among The Gentiles

12. The Identity Of Jesus Comes Into Focus Through A Repeated Series Of Events

13. Jesus Predicts His Sufferings And Appears In Glory On A Mountaintop

14. Jesus Delivers A Boy From A Demon And Teaches His Disciples Privately

15. Jesus Teaches His Disciples More About The Ways Of The Kingdom Of God

16. Jesus Teaches About Greatness And Heals Blind Bartimaeus

17. Jesus Enters Jerusalem, Makes A Fig Tree Wither, And Cleanses The Temple

18. The Jewish Leaders Question Jesus' Authority And Identity

19. Jesus Debates His Opponents And Teaches The Crowds In The Temple

20. Jesus Predicts The Destruction Of The Temple

21. Jesus Shares A Meal In Bethany And Observes Passover In Jerusalem

22. Jesus Prays In Gesthemane And Is Arrested And Questioned By The Sanhedrin

23. Jesus Gives His Life As The Savior Of The World

24. Jesus Is Buried And Rises From The Dead
Other Titles In The "Understanding The Books Of The Bible" Series View All