Mark (Zondervan Illustrated Bible Backgrounds Commentary Series)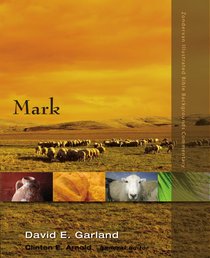 Brimming with lavish, full-color photos and graphics, the Zondervan Illustrated Bible Backgrounds Commentary walks you verse by verse through all the books of the New Testament. It's like slipping on a set of glasses that lets you read the Bible through the eyes of a first-century reader! Discoveries await you that will snap the world of the New Testament into gripping immediacy. Things that seem mystifying, puzzling, or obscure will take on tremendous meaning when you view them in their ancient context. You'll deepen your understanding of the teachings of Jesus. You'll discover the close, sometimes startling interplay between God's kingdom and the practical affairs of the church. Best of all, you'll gain a deepened awareness of the Bible's relevance for your life. Written in a clear, engaging style, this beautiful set provides a new and accessible approach that more technical expository and exegetical commentaries don't offer.

- Publisher
You May Also Be Interested In
About "Mark (Zondervan Illustrated Bible Backgrounds Commentary Series)"
Brimming with lavish, full-color photos and graphics, the Zondervan Illustrated Bible Backgrounds Commentary walks you verse by verse through all the books of the New Testament. It's like slipping on a set of glasses that lets you read the Bible through the eyes of a first-century reader! Discoveries await you that will snap the world of the New Testament into gripping immediacy. Things that seem mystifying, puzzling, or obscure will take on tremendous meaning when you view them in their ancient context. You'll deepen your understanding of the teachings of Jesus. You'll discover the close, sometimes startling interplay between God's kingdom and the practical affairs of the church. Best of all, you'll gain a deepened awareness of the Bible's relevance for your life. Written in a clear, engaging style, this beautiful set provides a new and accessible approach that more technical expository and exegetical commentaries don't offer.
- Publisher


Meet the Authors
David E Garland
David Garland, Ph.D. (Southern Baptist Theological Seminary) is William B. Hinson professor of Christian Scriptures and associate dean for academic affairs at George W. Truett Seminary, Baylor University. He is the New Testament editor for the revised Expositor's Bible Commentary and the Zondervan Exegetical Commentary of which he is writing the inaugural volume on The Gospel of Luke. He is the author of various books and commentaries, including Mark (an award winner) and Colossians/Philemon in the NIV Application Commentary, the article on Mark in the Zondervan Illustrated Bible Backgrounds Commentary, 2 Corinthians in the New American Commentary, 1 Corinthians in the Baker Exegetical Commentary of the New Testament which was highly awarded. He and his wife, Diana, with whom he has co-authored a number of titles on family and ministry, reside in Waco, Texas.
Clinton E Arnold (Ed)
Clinton E. Arnold ( Ph.D., University of Aberdeen) is professor of New Testament language and literature at Talbot School of Theology, is a noted authority on spiritual warfare.


He is the author of Power and Magic: The Concept of Power in Ephesians; Powers of Darkness: Principalities and Powers in Paul's Letters; The Colossian Syncretism: The Interface between Christianity and Folk Belief at Colossae; 3 Crucial Questions about Spiritual Warfare (Three Crucial Questions); The Zondervan Illustrated Bible Backgrounds Commentary Set --editor and contributor (Acts- Ephesians-Colossians), and he is revising the Word Biblical Commentary on Colossians and has also completed the much anticipated Zondervan Exegetical Commentary on Ephesians
Koorong - Editorial Review.
Table Of Contents
Brimming With Lavish, Full-color Photos And Graphics, The Zondervan Illustrated Bible Backgrounds Commentary Walks You Verse By Verse Through All The Books Of The New Testament. It's Like Slipping On A Set Of Glasses That Lets You Read The Bible Through The Eyes Of A First-century Reader! Discoveries Await You That Will Snap The World Of The New Testament Into Gripping Immediacy. Things That Seem Mystifying, Puzzling, Or Obscure Will Take On Tremendous Meaning When You View Them In Their Ancient Context. You'll Deepen Your Understanding Of The Teachings Of Jesus. You'll Discover The Close, Sometimes Startling Interplay Between God's Kingdom And The Practical Affairs Of The Church. Best Of All, You'll Gain A Deepened Awareness Of The Bible's Relevance For Your Life. Written In A Clear, Engaging Style, This Beautiful Set Provides A New And Accessible Approach That More Technical Expository And Exegetical Commentaries Don't Offer.

List Of Sidebars . . . . Ix

List Of Charts Xi

Index Of Photos And Maps Xii

Abbreviations . . . . Xvi

Matthew . . . . 2

Michael J. Wilkins

Mark . . . . 204

David E. Garland

Luke 318

Mark Strauss

Credits For Photos And Maps . . 516
Other Titles In The "Zondervan Illustrated Bible Backgrounds Commentary" Series View All