Martin Luther as Prophet, Teacher, and Hero (Texts & Studies In Reformation & Post-reformation Thought Series)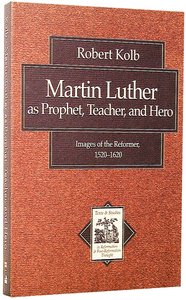 This innovative study uses three categories - prophet, teacher and hero - to describe the ways in which Luther's successors used his influence and adapted it to the needs of the church in there respective ages. Essential reading for students of Luther and the Reformation, this volume provides a new perspective that moves scholarly discussion ahead significantly. 272 pages, from Baker
You May Also Be Interested In
About "Martin Luther as Prophet, Teacher, and Hero (Texts & Studies In Reformation & Post-reformation Thought Series)"
This innovative study uses three categories - prophet, teacher and hero - to describe the ways in which Luther's successors used his influence and adapted it to the needs of the church in there respective ages. Essential reading for students of Luther and the Reformation, this volume provides a new perspective that moves scholarly discussion ahead significantly. 272 pages, from Baker
- Koorong

"Robert Kolb's study of changing interpretations of Luther's life and work is a valuable contribution to Luther studies. In particular, it demonstrates the impact of Luther on German theological thinking since the 16th century."--Dr. John Johnson, President, Concordia Seminary, St. Louis, MO"Professor Kolb has woven a fascinating tale about the effect of Luther on his theological heirs. Here, in an easy-to-read, yet scholarly account, the reader is expertly led through a labyrinth of sixteenth-century Luther reception. Kolb's grasp of the pertinent secondary literature and his command of a vast array of primary sources combine to reveal the variety of ways early Lutherans and others sought to comprehend how the Reformer had changed the religious and social landscape of the early modern German lands. This is a landmark study with which everyone interested in Luther studies will need to grapple."--Timothy J. Wengert, Professor, The Lutheran Theological Seminary at Philadelphia
- Publisher

This work considers the ways in which Martin Luther's contemporaries and successors used his influence in the German Reformation and adapted it to the needs of the church in their respective ages. Robert Kolb suggests Luther's disciples viewed him in three different ways: as prophet, teacher, and hero. The second section of the book focuses on the use and collection of Luther's writings.
- Publisher


Meet the Author
Robert Kolb
Robert Kolb (PhD, University of Wisconsin, Madison) is Mission Professor of Systematic Theology and director of the Institute for Mission Studies at Concordia Seminary in St. Louis, Missouri. He is the author of numerous books, including Martin Luther as Prophet, Teacher, and Hero, and co-editor of The Book of Concord. and most recently Genius of Luther's Theology.
Table Of Contents
Part 1: Theander Lutherus: The Man Of God As Prophet, Teacher, And Hero
1. the Living Prophet: Luther As Experienced By His Contemporaries
2. the Prophet Of God: Luther As The Authoritative Interpreter Of God's Word
3. the German Prophet: Against The Baalites Of Rome--luther As Hero Of The People And The Nation
4. the Teaching Prophet: In Conflict With The Sacramentarians--luther As Instructor Of Pure Teaching
5. the Hero Of The Reformation: Seventeenth-century Popular Presentations Of Luther In Maturing Lutheranism
part 2: Opera Omnia Reverendi Domini Martini Lutheri: The Reprinting Of Luther's Works In The Half Century After His Death
6. the Complete Luther: The Initial Editions Of Luther's Published Teaching
7. bouquets And Blossoms From Luther's Thought: Topical Collections And Individual Reprints Of Luther's Publications
8. the Loci Communes Lutheri: Luther Systematized For Teaching The Faith
Other Titles In The "Texts & Studies In Reformation & Post-reformation Thought" Series View All