Matthew (Baker Exegetical Commentary On The New Testament Series)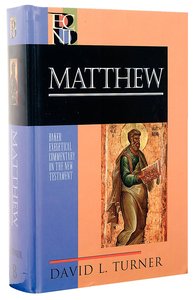 $

64.99

$

51.99
You Save: $13.00 (20%)
Hardback
New Testament scholar and professor David L. Turner offers a substantive yet highly accessible commentary on Matthew in this latest addition to the BECNT series. With extensive research and thoughtful chapter-by-chapter exegesis, Turner leads readers through all aspects of the Gospel of Matthew--sociological, historical, and theological--to help them better understand and explain this key New Testament book. He also includes important insights into the Jewish background of this Gospel.

As with all BECNT volumes,Matthew features the author's detailed interaction with the Greek text. This commentary admirably achieves the dual aims of the series--academic sophistication with pastoral sensitivity and accessibility--making it a useful tool for students, professors, and pastors. The user-friendly design includes shaded-text chapter introductions summarizing the key themes of each thought unit.

- Publisher
You May Also Be Interested In
About "Matthew (Baker Exegetical Commentary On The New Testament Series)"
New Testament scholar and professor David L. Turner offers a substantive yet highly accessible commentary on Matthew in this latest addition to the BECNT series. With extensive research and thoughtful chapter-by-chapter exegesis, Turner leads readers through all aspects of the Gospel of Matthew--sociological, historical, and theological--to help them better understand and explain this key New Testament book. He also includes important insights into the Jewish background of this Gospel.

As with all BECNT volumes,Matthew features the author's detailed interaction with the Greek text. This commentary admirably achieves the dual aims of the series--academic sophistication with pastoral sensitivity and accessibility--making it a useful tool for students, professors, and pastors. The user-friendly design includes shaded-text chapter introductions summarizing the key themes of each thought unit.
- Publisher


Meet the Author
David L Turner
David L. Turner (ThD, Grace Theological Seminary) is professor of New Testament and systematic theology at Grand Rapids Theological Seminary. He has also completed coursework for a PhD from Hebrew Union College. He is the coauthor of the Cornerstone Biblical Commentary: The Gospel of Matthew/The Gospel of Mark.
Table Of Contents
Series Preface
author's Preface
abbreviations
transliteration
map
introduction To Matthew
i. Prologue/introduction: Origin Of Jesus The Messiah (1:1-2:23)
a. Title And Genealogy Of Jesus The Messiah (1:1-17)
b. Birth Of Jesus The Messiah (1:18-25)
c. Visit Of The Magi (2:1-12)
d. Escape To Egypt (2:13-15)
e. Massacre At Bethlehem (2:16-18)
f. The Return To Nazareth (2:19-23)
ii. The Early Days Of Kingdom Word And Deed (3:1-7:29)
a. Narrative 1: John And Jesus And The Kingdom Of God (3:1-4:25)
b. Discourse 1: The Sermon On The Mount (5:1-7:29)
iii. The Galilean Ministry Continues (8:1-11:1)
a. Narrative 2: Three Cycles Of Miracles And Discipleship (8:1-9:38)
b. Discourse 2: Mission And Suffering (10:5-11:1)
iv. Growing Opposition To The Kingdom Of Heaven (11:2-13:52)
a. Narrative 3: Three Cycles Of Unbelief And Belief (11:2-12:50)
b. Discourse 3: Parables Of The Kingdom Of Heaven (13:1-52)
v. Opposition To The Kingdom Continues (13:53-19:2)
a. Narrative 4: Various Responses To The Son Of God (13:53-17:27)
b. Discourse 4: Values And Relationships In The Kingdom Community (18:1-35)
vi. Opposition Comes To A Head In Judea (19:3-26:2)
a. Narrative 5: Ministry In Judea (19:3-23:39)
b. Discourse 5: The Judgment Of Jerusalem And The Coming Of Christ (24:1-26:2)
vii. Epilogue/conclusion: Passion, Resurrection, And Commission (26:3-28:20)
a. Preliminary Events And Preparation Of The Disciples (26:3-46)
b. Arrest And Trial (26:47-27:26)
c. The Crucifixion (27:27-56)
d. The Burial Of Jesus (27:57-66)
e. The Resurrection Of Jesus (28:1-15)
f. The Commission Of The Risen Lord (28:16-20)
works Cited
index Of Subjects
index Of Authors
index Of Greek Words
index Of Scripture And Other Ancient Writings
Other Titles In The "Baker Exegetical Commentary On The New Testament" Series View All