Matthew Henry's Commentary on the Whole Bible (Zondervan Classic Reference Series)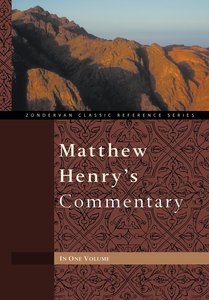 This one volume edition of Henry's classic six volume commentary preserves, in slightly condensed form, all that is valuable and timely from the original set. "With his sure spiritual instinct for the sense of Scripture, he presents its wholesome and abiding essence in a style of rare pithiness".- F F Bruce. 1,986 pages, from Zondervan.

- Publisher The straightforward manner in which Matthew Henry's Commentary brings Scripture to bear on the practical matters of life and of Christian character together with its deeply reverent, devotional style, have made it the most beloved Bible commentary of all time. For nearly 300 years, Christians have consulted its rich insights into the very heart of God's Word. Passage by passage, its prayerful, penetrating reflections inspire and challenge the reader. This careful abridgment presents in one volume the wealth of exposition and comment, metaphors, analogies, and illustrations that have set Matthew Henry's Commentary apart as one of the enduring legacies of faith. It is ideal for -- Personal devotions - Bible study - Sermon and lesson preparation -- Forever fresh and never failing to render new pearls of wisdom, Matthew Henry's Commentary is a book you will reach for often to obtain deeper understanding of the Scriptures.

- Publisher All that is best and most valuable in the monumental work of Matthew Henry is here preserved in his own words-skillfully abridged and condensed by Dr. Leslie F. Church, distinguished British Methodist editor, in one large volume. This handy form preserves for a new generation of Bible students the wealth of exposition and comment, metaphors, analogies, and illustrations that has made Matthew Henry's Commentary a mainstay for almost three centuries. As relevant today as ever, Matthew Henry's Commentary is of incomparable insight and written on a highly devotional level. Nothing has been added nor has there been any paraphrasing or altering of the original.

- Publisher
You May Also Be Interested In
About "Matthew Henry's Commentary on the Whole Bible (Zondervan Classic Reference Series)"
This one volume edition of Henry's classic six volume commentary preserves, in slightly condensed form, all that is valuable and timely from the original set. "With his sure spiritual instinct for the sense of Scripture, he presents its wholesome and abiding essence in a style of rare pithiness".- F F Bruce. 1,986 pages, from Zondervan.
- Publisher

The straightforward manner in which Matthew Henry's Commentary brings Scripture to bear on the practical matters of life and of Christian character together with its deeply reverent, devotional style, have made it the most beloved Bible commentary of all time. For nearly 300 years, Christians have consulted its rich insights into the very heart of God's Word. Passage by passage, its prayerful, penetrating reflections inspire and challenge the reader. This careful abridgment presents in one volume the wealth of exposition and comment, metaphors, analogies, and illustrations that have set Matthew Henry's Commentary apart as one of the enduring legacies of faith. It is ideal for -- Personal devotions - Bible study - Sermon and lesson preparation -- Forever fresh and never failing to render new pearls of wisdom, Matthew Henry's Commentary is a book you will reach for often to obtain deeper understanding of the Scriptures.
- Publisher

All that is best and most valuable in the monumental work of Matthew Henry is here preserved in his own words-skillfully abridged and condensed by Dr. Leslie F. Church, distinguished British Methodist editor, in one large volume. This handy form preserves for a new generation of Bible students the wealth of exposition and comment, metaphors, analogies, and illustrations that has made Matthew Henry's Commentary a mainstay for almost three centuries. As relevant today as ever, Matthew Henry's Commentary is of incomparable insight and written on a highly devotional level. Nothing has been added nor has there been any paraphrasing or altering of the original.
- Publisher


Meet the Author
Matthew Henry
Matthew Henry (1662-1714), was born into a committed Puritan family and followed his father's footsteps into full-time ministry, being ordained as a Presbyterian pastor in 1687. Despite ill health, deep bereavement, and the demands of his pastoral duties, Henry produced many devotional and scholarly works. They remain popular three centuries after his death, especially his classic commentary on the whole Bible.
Other Titles In The "Zondervan Classic Reference" Series