Matthew (John Walvoord Prophecy Commentaries Series)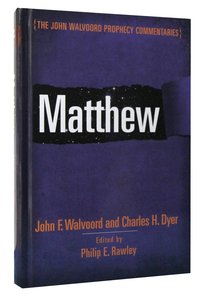 As the first gospel, the book of Matthew is a bridge between the Old Testament and the New.  It presents Jesus as the Messiah predicted in the Old Testament, but also as the Savior whose death was necessary for the salvation of mankind.  Yet Matthew also describes the future Kingdom of Jesus when He will reign on earth at His Second Coming. 
In this fourth volume of the renewed Walvoord Commentary Series, renowned biblical scholar and prophecy expert John Walvoord, along with Dr. Charles Dyer, walk readers through the gospel of Matthew chapter by chapter and unfold the gospel's message of Jesus' Messianic identity, teachings, miracles, and future return as victorious King. 
Revised and updated throughout and based on the text of the English Standard Version (ESV), this new edition of Walvoord's commentary will serve a whole new generation of pastors, leaders, and everyday Christians.     
- Publisher
You May Also Be Interested In
About "Matthew (John Walvoord Prophecy Commentaries Series)"
As the first gospel, the book of Matthew is a bridge between the Old Testament and the New.  It presents Jesus as the Messiah predicted in the Old Testament, but also as the Savior whose death was necessary for the salvation of mankind.  Yet Matthew also describes the future Kingdom of Jesus when He will reign on earth at His Second Coming. 
In this fourth volume of the renewed Walvoord Commentary Series, renowned biblical scholar and prophecy expert John Walvoord, along with Dr. Charles Dyer, walk readers through the gospel of Matthew chapter by chapter and unfold the gospel's message of Jesus' Messianic identity, teachings, miracles, and future return as victorious King. 
Revised and updated throughout and based on the text of the English Standard Version (ESV), this new edition of Walvoord's commentary will serve a whole new generation of pastors, leaders, and everyday Christians.     
- Publisher
Meet the Authors
John F Walvoord
John F Walvoord is considered the world's foremost interpreter of biblical prophecy. He authored nearly 30 books including the New York Times bestseller, Armagaeddon, Oil and The Midle East Crisis. He served as president and professor of systematic theology at Dallas Theological Seminary from 1952-1986. He earned degrees from Wheaton College, Texas Christian University, and Dallas Theological Seminary. Walvoord died in December 2002 at the age of 92.- Publisher.
Charles H Dyer
Charles H. Dyer (Th.D., Dallas Theological Seminary) is an Old Testament scholar and Provost and Dean of Education of Moody Bible Institute. He has traveled extensively in the Middle East, including visits to Babylon in Iraq. He is a licensed tour guide for Israel and has taken over 50 trips to the Holy Land. He writes extensively on how modern day events in the Middle East fit into the fulfilment of Biblical prophecy from a dispensational perspective in such books as What's Next?, The Rise of Babylon, and Storm Clouds On The Horizon.
Other Titles In The "John Walvoord Prophecy Commentaries" Series View All
$38.99




Order now to secure your copy when our stock arrives. eBook is Available. 0 Available. Expected to ship in 5 to 6 weeks from Australia.

Formats