Matthew (Niv Application Commentary Series)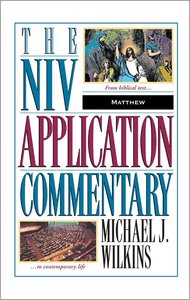 Matthew, part of the NIV Application Commentary series, helps readers learn how the message of Matthew's Gospel can have the same powerful impact today that it did when the author first wrote it.

The importance of the Gospel of Matthew in church history cannot be overstated. For Jewish readers, it affirmed the Messiahship of Jesus, referring consistently to the Scriptures to establish his credentials. For Gentile disciples, it provided powerful and dramatic support of their inclusion in God's kingdom. The cross of Christ had removed the division between Jew and non-Jew, and through Matthew's writings, we see Israel's God drawing the entire world to himself through Jesus.

"The Gospel according to Matthew . . . was the most widely read and frequently used of any of the four Gospels in the formative years of the church," writes Michael Wilkins. In this volume of the NIV Application Commentary, Wilkins explains Matthew's broad appeal not only to his ancient readers, but also to us today. Exploring the links between the Bible and our own times, Wilkins shares perspectives on Matthew's Gospel that reveal its enduring relevance for our twenty-first-century lives.


- Publisher Zondervan Academic is pleased to announce that The NIV Application Commentary New Testament Series is brought to completion with the publication of Matthew, by Michael J. Wilkins. Each volume in this award-winning series explores each passage from three vital perspectives. First, Original Meaning illuminates the problems, questions, and concerns of the original audience and how the author spoke to those issues. Next, Bridging Contexts helps bring the message from the biblical world into our world by looking for timeless truths in the Scripture. Finally, Contemporary Significance shows how eternal truths presented in a different time apply to our lives today. These commentaries are well-researched, academically sound, and practical tools for anyone who is in the business of explaining not only what the Bible means but also how it can be applied today. Matthew, the most Jewish of the four Gospels, has as its overarching theme the kingdom of God and Jesus as its king. Michael J. Wilkins takes us back to the first century and returns to the twenty-first, bringing the powerful impact of this account of Jesus home today.

- Publisher
Also Available In
You May Also Be Interested In
This item is in the following kit
About "Matthew (Niv Application Commentary Series)"
Matthew, part of the NIV Application Commentary series, helps readers learn how the message of Matthew's Gospel can have the same powerful impact today that it did when the author first wrote it.

The importance of the Gospel of Matthew in church history cannot be overstated. For Jewish readers, it affirmed the Messiahship of Jesus, referring consistently to the Scriptures to establish his credentials. For Gentile disciples, it provided powerful and dramatic support of their inclusion in God's kingdom. The cross of Christ had removed the division between Jew and non-Jew, and through Matthew's writings, we see Israel's God drawing the entire world to himself through Jesus.

"The Gospel according to Matthew . . . was the most widely read and frequently used of any of the four Gospels in the formative years of the church," writes Michael Wilkins. In this volume of the NIV Application Commentary, Wilkins explains Matthew's broad appeal not only to his ancient readers, but also to us today. Exploring the links between the Bible and our own times, Wilkins shares perspectives on Matthew's Gospel that reveal its enduring relevance for our twenty-first-century lives.

- Publisher

Zondervan Academic is pleased to announce that The NIV Application Commentary New Testament Series is brought to completion with the publication of Matthew, by Michael J. Wilkins. Each volume in this award-winning series explores each passage from three vital perspectives. First, Original Meaning illuminates the problems, questions, and concerns of the original audience and how the author spoke to those issues. Next, Bridging Contexts helps bring the message from the biblical world into our world by looking for timeless truths in the Scripture. Finally, Contemporary Significance shows how eternal truths presented in a different time apply to our lives today. These commentaries are well-researched, academically sound, and practical tools for anyone who is in the business of explaining not only what the Bible means but also how it can be applied today. Matthew, the most Jewish of the four Gospels, has as its overarching theme the kingdom of God and Jesus as its king. Michael J. Wilkins takes us back to the first century and returns to the twenty-first, bringing the powerful impact of this account of Jesus home today.
- Publisher


Meet the Author
Michael J Wilkins
Michael J. Wilkins (PhD, Fuller Theological Seminary) is dean of the faculty and professor of New Testament language and literature at Talbot School of Theology, Biola University, and the author of several books.
Other Titles In The "Niv Application Commentary" Series View All