Matthew (Paideia Commentaries On The New Testament Series)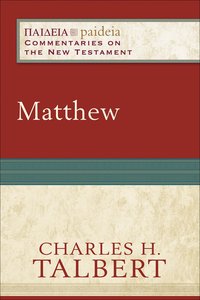 In this fresh commentary, the fourth of eighteen volumes in the Paideia series, a leading New Testament scholar examines cultural context and theological meaning in Matthew. Paideia commentaries explore how New Testament texts form Christian readers by
• Attending to the ancient narrative and rhetorical strategies the text employs
• Showing how the text shapes theological convictions and moral habits
• Commenting on the final, canonical form of each New Testament book
• Focusing on the cultural, literary, and theological settings of the text
• Making judicious use of maps, photos, and sidebars in a reader-friendly format

- Publisher
You May Also Be Interested In
About "Matthew (Paideia Commentaries On The New Testament Series)"
In this fresh commentary, the fourth of eighteen volumes in the Paideia series, a leading New Testament scholar examines cultural context and theological meaning in Matthew. Paideia commentaries explore how New Testament texts form Christian readers by
• Attending to the ancient narrative and rhetorical strategies the text employs
• Showing how the text shapes theological convictions and moral habits
• Commenting on the final, canonical form of each New Testament book
• Focusing on the cultural, literary, and theological settings of the text
• Making judicious use of maps, photos, and sidebars in a reader-friendly format
- Publisher


Meet the Author
Charles H Talbert
Charles H. Talbert (Ph.D., Vanderbilt University) is distinguished professor of religion at Baylor University. He is the author of many books, including Reading the Sermon on the Mount; Reading Romans, Reading Acts: A Literary and Theological Commentary on the Acts of the Apostles and the forthcoming volumes in the Paideia New Testament Commentary series on Ephesians-Colossians and Matthew.
His most recent works are Getting "Saved": The Whole Story of Salvation in the New Testament (with Jason A. Whitlark, Eerdmans, 2011); Romans (Smyth & Helwys Bible Commentary) and The Development of Christology During the First Hundred Years: And Other Essays on Early Christian Christology (Supplements to Novum Testamentum, Brill, 2011)
Koorong -Editorial Review.
Table Of Contents
In This Fresh Commentary, The Fourth Of Eighteen Volumes In The Paideia Series, A Leading New Testament Scholar Examines Cultural Context And Theological Meaning In Matthew. Paideia Commentaries Explore How New Testament Texts Form Christian Readers By
• Attending To The Ancient Narrative And Rhetorical Strategies The Text Employs
• Showing How The Text Shapes Theological Convictions And Moral Habits
• Commenting On The Final, Canonical Form Of Each New Testament Book
• Focusing On The Cultural, Literary, And Theological Settings Of The Text
• Making Judicious Use Of Maps, Photos, And Sidebars In A Reader-friendly Format
Other Titles In The "Paideia Commentaries On The New Testament Series" Series View All