Mean Girls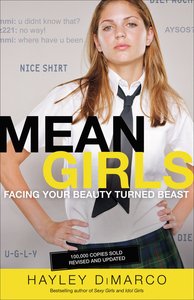 Why is it so tough to be a girl? Whether it's at school, in the mall, or even online, girls are mean to each other. Most girls will admit that they have been a victim of a mean girl. In fact, many will say that all girls are basically mean. Whether they're teasing a girl because of how she looks, making up rumors to torment others, or launching an online campaign to destroy their target, girls can be just plain ruthless.
This one-of-a-kind book has helped end the cycle of meanness for tens of thousands of girls. Mean Girls is a call to spiritual strength. A call to stand firm. It calls girls to face the beasts in their lives head on. In short, it's the answer girls need for the problem they never thought could go away. This completely revised edition of Mean Girls will reach junior highers and high schoolers where they are with the help and advice they crave. It has been redesigned inside and out to match the award-winning look of DiMarco's other popular books.

- Publisher
You May Also Be Interested In
About "Mean Girls"
Why is it so tough to be a girl? Whether it's at school, in the mall, or even online, girls are mean to each other. Most girls will admit that they have been a victim of a mean girl. In fact, many will say that all girls are basically mean. Whether they're teasing a girl because of how she looks, making up rumors to torment others, or launching an online campaign to destroy their target, girls can be just plain ruthless.
This one-of-a-kind book has helped end the cycle of meanness for tens of thousands of girls. Mean Girls is a call to spiritual strength. A call to stand firm. It calls girls to face the beasts in their lives head on. In short, it's the answer girls need for the problem they never thought could go away. This completely revised edition of Mean Girls will reach junior highers and high schoolers where they are with the help and advice they crave. It has been redesigned inside and out to match the award-winning look of DiMarco's other popular books.
- Publisher


Meet the Author
Hayley Dimarco
Hayley DiMarco is chief creative officer and founder of Hungry Planet, where she writes and creates cutting-edge books that connect with the post-modern mind. She has written and co-written numerous bestselling books for both teens and adults, including Sexy Girls -The Evangelical Christian Publishers Christian Book Award Winner,Children/Youth Category for 2007 and Technical Virgin also one of the five finalists.
Other popular titles include Dateable, Mean Girls, Marriageable, and Stupid Parents. Before all this bestseller stuff, Hayley was the teen brand manager for Thomas Nelson, a huge Christian book publisher. Before that, she worked for a little shoe company called Nike. She still misses the free swoosh swag.