Meant to Be Mine (#02 in Porter Family Novel Series)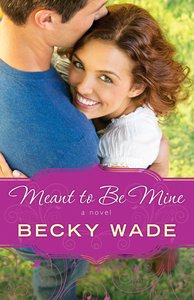 2015 INSPY Award Winner
2015 Inspirational Reader's Choice Award Winner (Now Known as Faith, Hope, & Love Reader's Choice Award)


Ty Porter has always been irresistible to Celia Park. All through high school--irresistible. When their paths cross again after college--still irresistible. This time, though, Ty seems to feel exactly the same way about Celia. Their whirlwind romance deposits them at a street-corner Las Vegas wedding chapel.

The next morning they wake to a marriage certificate and a dose of cold reality. Celia's ready to be Ty's wife, but Ty's not ready to be her husband. He's a professional bull rider, he lives on the road, and he's long planned to settle down with the hometown girl he's known since childhood.

Five and a half years pass. Celia's buried her dreams so that she can afford to raise her daughter. Ty's achieved all of his goals. Or thought he had, until he looks again into the eyes of the woman he couldn't forget and into the face of the child he never knew he had.

How much will Ty sacrifice to win back Celia's trust and prove to her that their spontaneous marriage can still become the love of a lifetime?




Praise for Becky Wade

"Definitely one for the keeper shelf!"--USA Today on Undeniably Yours

"A sweet contemporary romance that will make for the perfect summer read."--Novel Crossing on Undeniably Yours

"A feisty heroine, romance, and comedy make this a fabulous debut and Wade an author to follow."--Library Journal on My Stubborn Heart

"A perfect 5 out of 5 stars...can't wait to find more from Becky in the near future. This is a must-read for your summer love stories!"--Reviews from the Heart blog on My Stubborn Heart

- Publisher
You May Also Be Interested In
About "Meant to Be Mine (#02 in Porter Family Novel Series)"
2015 INSPY Award Winner
2015 Inspirational Reader's Choice Award Winner (Now Known as Faith, Hope, & Love Reader's Choice Award)


Ty Porter has always been irresistible to Celia Park. All through high school--irresistible. When their paths cross again after college--still irresistible. This time, though, Ty seems to feel exactly the same way about Celia. Their whirlwind romance deposits them at a street-corner Las Vegas wedding chapel.

The next morning they wake to a marriage certificate and a dose of cold reality. Celia's ready to be Ty's wife, but Ty's not ready to be her husband. He's a professional bull rider, he lives on the road, and he's long planned to settle down with the hometown girl he's known since childhood.

Five and a half years pass. Celia's buried her dreams so that she can afford to raise her daughter. Ty's achieved all of his goals. Or thought he had, until he looks again into the eyes of the woman he couldn't forget and into the face of the child he never knew he had.

How much will Ty sacrifice to win back Celia's trust and prove to her that their spontaneous marriage can still become the love of a lifetime?




Praise for Becky Wade

"Definitely one for the keeper shelf!"--USA Today on Undeniably Yours

"A sweet contemporary romance that will make for the perfect summer read."--Novel Crossing on Undeniably Yours

"A feisty heroine, romance, and comedy make this a fabulous debut and Wade an author to follow."--Library Journal on My Stubborn Heart

"A perfect 5 out of 5 stars...can't wait to find more from Becky in the near future. This is a must-read for your summer love stories!"--Reviews from the Heart blog on My Stubborn Heart
- Publisher


Meet the Author
Becky Wade
Becky Wade is a graduate of Baylor University. As a newlywed, she lived for three years in a home overlooking the turquoise waters of the Caribbean, as well as in Australia, before returning to the States. A mom of three young children, Becky and her family now live in Dallas, Texas. Visit her website at www.beckywade.com. A
Customer Reviews For "Meant to Be Mine (#02 in Porter Family Novel Series)"
Write Your Own Review
The second book in the series
By Meredith Resce,

Dec 31 2016
This second story in the series keeps the good standard of writing enjoyed in the first. The plot line - Ty Porter discovers that his one night with Celia, the result of too much drink and a rushed Vegas wedding some five years previous, resulted in a child. But Ty's hasty decision to marry, and then to take off believing it to be a mistake, hurt Celia so badly, she decided she would not ever tell him about their child. When Ty decides he needs to find resolve for that night, to ask her forgiveness, he discovers the little girl, and then it is his turn to hold hurt. This is a plot line that is used a number of times, but that is because it works. Good story, dialogue, character interaction and resolve.
---
Loved it!
By Amanda,

Feb 11 2016
I really enjoyed this book. It was a bit different with flawed (gasp!) characters and real life getting in the way of fairytales. It was the first of Becky Wade's that I read (although this book in no 2 in a series). I fell in love with Becky's writing and instantly went to find the other two books in the series. She is a gifted writer who speaks truth and I will be looking out for anything else that she writes!
---
Great
By Shelley,

Jan 25 2015
The second book of the Porter family and another great read.  I started off really disliking Ty and then as the book progresses you see him for who he is - human.  Becky Wade brings her characters to life in such a believable way that you feel like you know them.  Their character faults are very human and identifiable.  This is a great story about forgiveness.  I highly recommend Becky Wade's book.  Excellent fiction.
---
Sweet Romance
By Hannah,

Jan 19 2015
I loved this book! Loved the characters, their interactions, the very real pain, doubt and hope that came with every decision they made. Ty made me laugh, but also had a depth to him that I didn't expect, and quite liked. And their daughter was just adorable with her stories and princess addiction. A sweet romance with a bit more depth to it than the average 'boy meets girl'. Looking forward to reading more by this author.
---
Loved it!
By Rochelle, NSW,

Jun 03 2014
A friend handed me three of Becky Wades books and I quickly became a 'where's the next book' fan. I loved 'My Stubborn Heart' (read it you'll be glad you did); fell in love with Meg Cole and Bo Porter in 'Undeniably Yours'. Was thrilled when 'Meant to be Mine' continued on with the Porter family when Ty Porter and his high school friend Celia Parker have a totally 'movie worthy' impulsive, spontaneous wedding. So quickly there is a stomach dropping 'awakening', but a new life is begun that is then the foundation of rebuilding a relationship and the acceptance of responsibility and the beautiful weaving of a family touched by a loving God.
There are some great light moments, a too real 'mothers panic' moment, pure frustration and eventually surrender to love that just needs forgiveness to be allowed to bloom. I love when a story pulls me in to the point I feel the emotions as the story is unfolding. Best I enjoy the antics that get me chuckling and my Husband rolling his eyes .... I hope you enjoy the creative author that I find Becky Wade to be as much as I have.
{{review.title}}
By {{review.author.name}},

{{review.reviewCreatedDate | date:'MMM dd yyyy'}}

{{reviewdescription}}
{{review.text}}
---
Other Titles In The "Porter Family Novel Series" Series View All