Meditating on the Word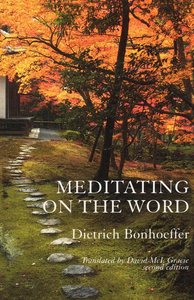 "Daily, quiet reflection on the Word of God as it applies to me becomes for me a point of crystallization for everything that gives interior and exterior order to my life," wrote Dietrich Bonhoeffer to his colleagues at the warfront in the winter of 1942. Now back in print after a decade, this collection of Bonhoeffer's writings, sermons, and letters on meditation-including his unfinished meditation on Psalm 119-reveals his deep love for the Bible as a focus for his prayer life and a support in his courageous political life. "Why do I meditate?" asks Bonhoeffer. "Because I am a Christian. Therefore, every day in which I do not penetrate more deeply into the knowledge of God's Word in Holy Scripture is a lost day for me."

- Publisher
You May Also Be Interested In
About "Meditating on the Word"
"Daily, quiet reflection on the Word of God as it applies to me becomes for me a point of crystallization for everything that gives interior and exterior order to my life," wrote Dietrich Bonhoeffer to his colleagues at the warfront in the winter of 1942. Now back in print after a decade, this collection of Bonhoeffer's writings, sermons, and letters on meditation-including his unfinished meditation on Psalm 119-reveals his deep love for the Bible as a focus for his prayer life and a support in his courageous political life. "Why do I meditate?" asks Bonhoeffer. "Because I am a Christian. Therefore, every day in which I do not penetrate more deeply into the knowledge of God's Word in Holy Scripture is a lost day for me."
- Publisher


Meet the Author
Dietrich Bonhoeffer
Dietrich Bonhoeffer (1906-1945) was a German Lutheran pastor, theologian (he received his doctorate in theology at the age of only 21), participant in the German Resistance movement against Nazism, and a founding member of the Confessing Church. He was involved in plots planned by members of the Abwehr (the German Military Intelligence Office) to assassinate Adolf Hitler.
He was arrested in March 1943, imprisoned, and eventually hanged just before the end of the World War II in Europe.
Some of his selected published works include Creation and Fall: A Theological Exposition of Genesis 1-3; Life Together; The Cost of Discipleship; Ethics; Christ the Center and Letters and Papers from Prison.