Meet Generation Z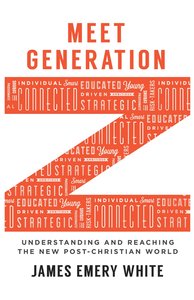 Move over Boomers, Xers, and Millennials; there's a new generation--making up more than 25 percent of the US population--that represents a seismic cultural shift. Born approximately between 1993 and 2012, Generation Z is the first truly post-Christian generation, and they are poised to challenge every church to rethink its role in light of a rapidly changing culture.

From the award-winning author of The Rise of the Nones comes this enlightening introduction to the youngest generation. James Emery White explains who this generation is, how it came to be, and the impact it is likely to have on the nation and the faith. Then he reintroduces us to the ancient countercultural model of the early church, arguing that this is the model Christian leaders must adopt and adapt if we are to reach members of Generation Z with the gospel. He helps readers rethink evangelistic and apologetic methods, cultivate a culture of invitation, and communicate with this connected generation where they are.

Pastors, ministry leaders, youth workers, and parents will find this an essential and hopeful resource.

- Publisher
You May Also Be Interested In
About "Meet Generation Z"
Move over Boomers, Xers, and Millennials; there's a new generation--making up more than 25 percent of the US population--that represents a seismic cultural shift. Born approximately between 1993 and 2012, Generation Z is the first truly post-Christian generation, and they are poised to challenge every church to rethink its role in light of a rapidly changing culture.

From the award-winning author of The Rise of the Nones comes this enlightening introduction to the youngest generation. James Emery White explains who this generation is, how it came to be, and the impact it is likely to have on the nation and the faith. Then he reintroduces us to the ancient countercultural model of the early church, arguing that this is the model Christian leaders must adopt and adapt if we are to reach members of Generation Z with the gospel. He helps readers rethink evangelistic and apologetic methods, cultivate a culture of invitation, and communicate with this connected generation where they are.

Pastors, ministry leaders, youth workers, and parents will find this an essential and hopeful resource.
- Publisher


Meet the Author
James Emery White
James Emery White (Ph.D., Southern Baptist Theological Seminary) was the fourth president of Gordon-Conwell Theological Seminary. Dr. White is the founding and senior pastor of Mecklenburg Community Church in Charlotte, North Carolina, which began with a single family and grew to over 3,000 families with over 5,000 active attenders. Mecklenburg experiences more than 70 percent of its growth from the unchurched.He holds . He has done advanced graduate study at Vanderbilt University, and continuing studies at Oxford University, Oxford, England. White is the author of twelve books, including Embracing the Mysterious God; A Search for the Spiritual; Serious Times and The Prayer God Longs For.