Meeting God in Scripture: A Hands-On Guide to Lection Divina. 40 Guided Meditations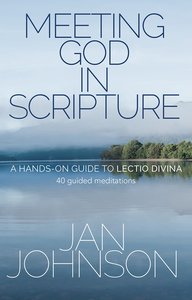 Lectio Divina - Latin for 'Divine Reading' - is a practice of Scripture reading that treats the Bible not only as a text to be examined, but also as the living Word of God spoken anew to us. Traditionally, Lectio Divina has four separate steps: read; meditate; pray; contemplate. Experienced Bible teacher Jan Johnson gives us forty Scripture meditations organised topically, giving us the tools we need to practice Lectio Divina on our own. Each meditation can be used both individually and in group settings, and includes: An introduction to the meditation encouraging a time of quiet preparatory exercise; the complete passage from Scripture with explanations, context, and background to the text, help to enter and absorb the text; space to contemplate the passage, respond to God in prayer and rest in his presence; and an exercise to implement the ideas of the passage in our daily lives. Meeting God in Scripture moves us beyond merely understanding what the text meant in its original context to a direct spiritual encounter with Christ.

- Publisher
You May Also Be Interested In
About "Meeting God in Scripture: A Hands-On Guide to Lection Divina. 40 Guided Meditations"
Lectio Divina - Latin for 'Divine Reading' - is a practice of Scripture reading that treats the Bible not only as a text to be examined, but also as the living Word of God spoken anew to us. Traditionally, Lectio Divina has four separate steps: read; meditate; pray; contemplate. Experienced Bible teacher Jan Johnson gives us forty Scripture meditations organised topically, giving us the tools we need to practice Lectio Divina on our own. Each meditation can be used both individually and in group settings, and includes: An introduction to the meditation encouraging a time of quiet preparatory exercise; the complete passage from Scripture with explanations, context, and background to the text, help to enter and absorb the text; space to contemplate the passage, respond to God in prayer and rest in his presence; and an exercise to implement the ideas of the passage in our daily lives. Meeting God in Scripture moves us beyond merely understanding what the text meant in its original context to a direct spiritual encounter with Christ.
- Publisher


Meet the Author
Jan Johnson
Jan Johnson, a spiritual director and a frequent speaker at retreats and conferences, is based near Los Angeles, California. She is the author of numerous books and Bible studies, including Enjoying the Presence of God, Growing Compassionate Kids and When the Soul Listens. She is also co-author (with Dallas Willard) of Dallas Willard's Study Guide to the Divine Conspiracy and Renovation of the Heart in Daily Practice. Her most recent books are Invitation to the Jesus Life and Spiritual Disciplines Companion.
Koorong -Editorial Review.