Meeting the Spirit (Lifeguide Bible Study Series)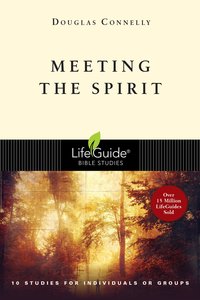 Who is the Holy Spirit? How does he change our lives? How does he work in the world? In ten sessions Douglas Connelly helps you examine these and other critical questions. You will see that the Spirit of God is eager to work in your life to draw you closer to God. This revised LifeGuide Bible Study features additional questions for starting group discussions and for meeting God in personal reflection, together with expanded leader's notes and a "Now or Later" section in each study. PDF download with a single-user license; available from InterVarsity Press and other resellers.

- Publisher
You May Also Be Interested In
About "Meeting the Spirit (Lifeguide Bible Study Series)"
Who is the Holy Spirit? How does he change our lives? How does he work in the world? In ten sessions Douglas Connelly helps you examine these and other critical questions. You will see that the Spirit of God is eager to work in your life to draw you closer to God. This revised LifeGuide Bible Study features additional questions for starting group discussions and for meeting God in personal reflection, together with expanded leader's notes and a "Now or Later" section in each study. PDF download with a single-user license; available from InterVarsity Press and other resellers.
- Publisher


Meet the Author
Douglas Connelly
Douglas Connelly is the senior pastor of Parkside Community Church in Sterling Heights, Michigan. He is a graduate of the University of Michigan-Flint and of Grace Theological Seminary (Master of Divinity, Master of Theology). He has also been an adjunct instructor at Spring Arbor College. He is the author of numerous Bible Study booklets and books including The Book of Revelation for Blockheads; Amazing Discoveries That Unlock the Bible; The Bible for Blockheads Revised Edition and Bible Prophecy for Blockheads.
Table Of Contents
Who Is The Holy Spirit? How Does He Change Our Lives? How Does He Work In The World? In Ten Sessions Douglas Connelly Helps You Examine These And Other Critical Questions. You Will See That The Spirit Of God Is Eager To Work In Your Life To Draw You Closer To God. This Revised Lifeguide Bible Study Features Additional Questions For Starting Group Discussions And For Meeting God In Personal Reflection, Together With Expanded Leader's Notes And A "now Or Later" Section In Each Study. pdf Download With A Single-user License; Available From Intervarsity Press And Other Resellers.

1. Meet The Holy Spirit! - john 16:5-15

2. The Spirit Invades - acts 2

3. The Spirit Speaks - 1 Corinthians 2

4. The Spirit Renews - john 3:1-8

5. The Spirit Empowers - acts 6:1-15; 7:54-60

6. The Spirit Guides - acts 16:1-15

7. The Spirit Liberates - romans 8:1-27

8. The Spirit Equips - 1 Corinthians 12

9. The Spirit Transforms - galatians 5:13-26

10. The Spirit Influences - ephesians 5:15-21

Leader's Notes
Other Titles In The "Lifeguide Bible Study" Series View All