Memory in Jewish, Pagan and Christian Societies of the Graeco-Roman World (Library Of Second Temple Studies Series)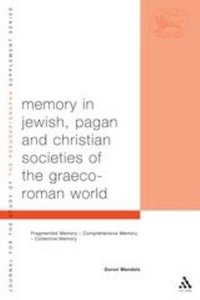 The ten studies in this book explore the phenomenon of public memory in societies of the Graeco-Roman period. Its various and shifting components are illustrated by studies of material ranging from Aeschylean tragedy to the work recently carried out by historian G. Alon in helping to formulate a fragment of modern Israeli collective memory of the Rabbinic period in Jewish history. Mendels begins with a concise discussion of the historical canon that emerged in Late Antiquity and brought with it the (distorted) memory of ancient history in Western culture. The following nine chapters each focus on a different source of collective memory in order to demonstrate the patchy and incomplete associations ancient societies had with their past, including discussions of Plato's Politeia, a 'site of memory' of the early Church (which formulated memories which became the basic blocks if the collective identity of the Catholic Church at the time), and the dichotomy existing between the reality of the Land of Israel in the Second Temple Period and memories of it. Throughout the book, Mendels shows that since the societies of Antiquity had associations with only bits and pieces of their past, the

- Publisher
You May Also Be Interested In
About "Memory in Jewish, Pagan and Christian Societies of the Graeco-Roman World (Library Of Second Temple Studies Series)"
The ten studies in this book explore the phenomenon of public memory in societies of the Graeco-Roman period. Its various and shifting components are illustrated by studies of material ranging from Aeschylean tragedy to the work recently carried out by historian G. Alon in helping to formulate a fragment of modern Israeli collective memory of the Rabbinic period in Jewish history. Mendels begins with a concise discussion of the historical canon that emerged in Late Antiquity and brought with it the (distorted) memory of ancient history in Western culture. The following nine chapters each focus on a different source of collective memory in order to demonstrate the patchy and incomplete associations ancient societies had with their past, including discussions of Plato's Politeia, a 'site of memory' of the early Church (which formulated memories which became the basic blocks if the collective identity of the Catholic Church at the time), and the dichotomy existing between the reality of the Land of Israel in the Second Temple Period and memories of it. Throughout the book, Mendels shows that since the societies of Antiquity had associations with only bits and pieces of their past, the
- Publisher


Meet the Author
Doron Mendels
Doron Mendels is The Max and Sophie Mydans Professor in the Humanities in the Department of History at The Hebrew University of Jerusalem, Israel. He is the author of many books and articles of which the two most recent books are: Memory in Jewish, Pagan and Christian Societies of the Graeco-Roman World (2004) and The Media Revolution of Early Christianity: An Essay on Eusebius' Ecclesiastical History (1999).
Table Of Contents
Introduction - Memories As Past Associations In Written Documents In The Graeco-roman World; Chapter 1 - How Was Our Collective Memory Of Ancient History Formed? The Historical Canon Of The Greco-roman Period; Chapter 2 - Recycling The Past: Fragmented Historical Memories, Comprehensive And Collective Memories; Chapter 3 - The Alternative "collective Memory" And The Nostalgia For Good Kingship In Aeschylus' Persians (681-906). Chapter 4 - The Selective Collective Memory: Plato's Politeia; Chapter 5 - Mechanisms Of Communication And The Preservation Of Public Memory: The Monarchy Of The First Ptolemaic Kings; Chapter 6 - An Inscribed Fragmented Memory From Palestine Of The Hasmonean Period - The Case Of I Maccabees; Chapter 7 - One's Memory Is Not The Other's: Memory And Reality Concerning The Centrality Of Palestine In The Second Temple Period; Chapter 8 - Commemorating The Early Church: Eusebius Of Caesarea's Ecclesiastical History As A "site Of Memory"; Chapter 9 - Christian Memories Of Jews Between 300-450 Ce Were Not All Anti-semitic!- Law As Memory; Chapter 10 - A Fragmented Memory In Judaism Of The Twentieth Century: The Example Of Gedaliahu Alon's The Jews In Their Land In The Talmudic Age; Notes And Bibliography
Other Titles In The "Library Of Second Temple Studies" Series View All