Mending the Divides: Creative Love in a Conflicted World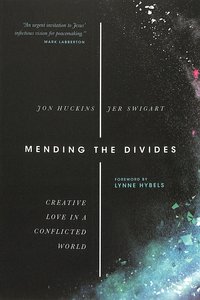 $

20.99

$

16.79
You Save: $4.20 (20%)
Paperback
:Conflict, hatred, and injustice seem to be the norm rather than the exception in our world, our nation, our communities, our homes. The fractures and fissures run so deep that we're paralyzed by our hopelessness, writing off peace as a far-fetched option for the afterlife. Even if there was the possibility of peace, where would we begin?Instead of disengaging, Jon Huckins and Jer Swigart invite us to move toward conflict and brokenness, but not simply for the sake of resolving tensions and ending wars. These modern-day peacemakers help us understand that because peacemaking is the mission of God, it should also be the vocation of his people. So peace is no longer understood as merely the absence of conflict-peace is when relationships once severed have been repaired and restored. Using biblical and current-day illustrations of everyday peacemakers, Mending the Divides equips disciples of Jesus to move toward conflict and seek the restoration of our relationships, our communities, and our world, offering practical steps to engage in the kingdom-building work of waging peace.

- Publisher
You May Also Be Interested In
About "Mending the Divides: Creative Love in a Conflicted World"
:Conflict, hatred, and injustice seem to be the norm rather than the exception in our world, our nation, our communities, our homes. The fractures and fissures run so deep that we're paralyzed by our hopelessness, writing off peace as a far-fetched option for the afterlife. Even if there was the possibility of peace, where would we begin?Instead of disengaging, Jon Huckins and Jer Swigart invite us to move toward conflict and brokenness, but not simply for the sake of resolving tensions and ending wars. These modern-day peacemakers help us understand that because peacemaking is the mission of God, it should also be the vocation of his people. So peace is no longer understood as merely the absence of conflict-peace is when relationships once severed have been repaired and restored. Using biblical and current-day illustrations of everyday peacemakers, Mending the Divides equips disciples of Jesus to move toward conflict and seek the restoration of our relationships, our communities, and our world, offering practical steps to engage in the kingdom-building work of waging peace.
- Publisher


Meet the Authors
Jon Huckins
Jon Huckins is a veteran youth pastor and public school teacher who is now on staff with NieuCommunities, a collective of missional church communities who foster leadership and community development. After much international travel and study in the Middle East, Jon focuses much of his writing and graduate studies at Fuller Seminary on ethics and social advocacy. Further, Jon writes for Youth Specialties and loves to tell and live out new stories with teenagers. He lives in San Diego with his wife Jan, daughter and three legged dog. Contact: http://jonhuckins.net or jon.huckins@gmail.com
Jer Swigart
Jer Swigart is the cofounder of The Global Immersion Project, a peacemaking training organization that forms, equips, and mobilizes individuals and communities to enter any kind of conflict to heal rather than to win. He also teaches theology, justice, and innovative leadership atnbsp;Kilns College in Bend, Oregon,nbsp;and serves on Bend's Justice Commission. He is a contributing author to a handful of books and occasionally writes for Huffington Post and Sojourners.Jer has been working in the field of peacemaking and conflict transformation since 2005, when he served as the liaison between an international NGO, a faith community, the Pakistani military, and the United Nations in the aftermath of the Northern Pakistani earthquake.nbsp;He was also founder and lead pastor of The Open Door Community, a courageous collective of people pursuing God's dream for the San Francisco Bay area.nbsp; A thought leader and international speaker, Jer frequently teaches in the areas of peacemaking and conflict transformation, Jesus, faith and culture, enemy love, practice-based formation methods, culture creating, and collaborative leadership. He completed his undergrad at The University of Northwestern-St. Paul and has an MDiv from Fuller Theological Seminary, where he received the prestigious David Allen Hubbard Award. He currently resides with his family in Bend, Oregon.
Table Of Contents
:foreword By Lynne Hybels

1. Confused, Divided, And Paralyzed2. Speaking Of Peace3. The Divine Pattern4. Everyday Conflict, Everyday Peacemaking5. See6. Immerse7. Contend8. Restore9. Time To Begin

Appendix 1: Building A Road Mapappendix 2: A Peacemaking Library