Men's Relational Toolbox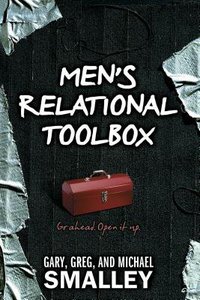 Using the right tool for the job makes sense when it comes to building or fixing things around the house. But when it comes to significant relationships, men often grab the tools that make them successful in the workplace--and then wonder why they didn't work. Through humorous anecdotes and practical advice, this engaging book will help men discover the set of tools they need to build and repair the relationships that are most important to them.

- Publisher Too often, we guys reach for the closest tool -- not the right tool. It seems like a good idea at first. But then the nail refuses to budge or the blade of the pocketknife breaks off. That's when we open our toolbox to look for the right tool. We treat relationships the same way -- especially with the women in our lives. The problem is we reach for the tools that work well for us in our work world -- but find they are often disastrous in our relationships. When you understand what you're good at and how you can stock your relational toolbox with the right tools, the people in your life -- especially the women -- will notice. Book jacket.

- Publisher
You May Also Be Interested In
About "Men's Relational Toolbox"
Using the right tool for the job makes sense when it comes to building or fixing things around the house. But when it comes to significant relationships, men often grab the tools that make them successful in the workplace--and then wonder why they didn't work. Through humorous anecdotes and practical advice, this engaging book will help men discover the set of tools they need to build and repair the relationships that are most important to them.
- Publisher

Too often, we guys reach for the closest tool -- not the right tool. It seems like a good idea at first. But then the nail refuses to budge or the blade of the pocketknife breaks off. That's when we open our toolbox to look for the right tool. We treat relationships the same way -- especially with the women in our lives. The problem is we reach for the tools that work well for us in our work world -- but find they are often disastrous in our relationships. When you understand what you're good at and how you can stock your relational toolbox with the right tools, the people in your life -- especially the women -- will notice. Book jacket.
- Publisher


Meet the Authors
Gary Smalley
Gary Smalley, one of the foremost experts on family relationships, has written or co-written 28 best-selling, award winning books selling over six millions copies, as well as several popular films and videos, based on more than 30 years of experience as a teacher, counsellor and speaker. The Blessing and The Two Sides of Love have won Gold Medallions, The Language of Love won the Angel Award as the best contribution to family life and all other titles have been top-five finalists for the Gold Medallion Award. His latest book is the DNA of Relationships. Gary and his wife, Norma, have been married for over thirty years.
Greg Smalley
Greg Smalley tiene pasion por ayudar a parejas prematrimoniales y ya casadas a que aprendan a disfrutar de toda la vida juntos. El Dr. Smalley es director de ministerios para matrimonios del Centro de Enriquecimiento para las Relaciones de la Universidad John Brown y profesor asistente en estudios sobre el matrimonio y la familia.ý Greg Smalley has a passion to help premarital and married couples learn how to enjoy a lifetime together. Dr. Smalley is the director of Marriage Ministries for the Center for Relationship Enrichment on the campus of John Brown University, and assistant professor

Michael Smalley
Michael Smalley, also a counselor, speaks around the world at various family and marriage conferences.