Mentoring Matters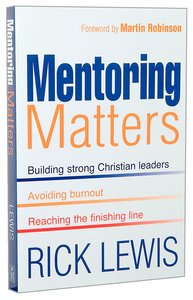 This book presents a reproducible model for maximizing the potential of leaders and helping them go the distance. It gets behind the issues of leadership skills to address the leader as a person - their spirituality, emotional health, key relationships, vulnerabilities, and rhythms of life. This approach to mentoring is highly flexible so that it can be tailor-made for each mentoring partnership, not relying on a strict format or curriculum. The mentor functions as a doctor of the soul, pulling us back to our most noble intentions and perceptive insights. The approach is formal and organised - and highly effective.



- Publisher
You May Also Be Interested In
About "Mentoring Matters"
This book presents a reproducible model for maximizing the potential of leaders and helping them go the distance. It gets behind the issues of leadership skills to address the leader as a person - their spirituality, emotional health, key relationships, vulnerabilities, and rhythms of life. This approach to mentoring is highly flexible so that it can be tailor-made for each mentoring partnership, not relying on a strict format or curriculum. The mentor functions as a doctor of the soul, pulling us back to our most noble intentions and perceptive insights. The approach is formal and organised - and highly effective.


- Publisher


Meet the Author
Rick Lewis
Rick Lewis is a freelance mentor of leaders and consultant to a wide variety of Christian organisations. He has 30 years' experience in leading local churches in Australia and the UK and has taught in several ministry training colleges around the world. Even while working full-time as a Senior Pastor, Rick's heart has always been for the mission of the wider church and especially for the strength and resilience of Christian leaders. For his Doctor of Ministry from Fuller Theological Seminary, Rick conducted action research in mentoring Christian leaders that later formed the basis of his first book, Mentoring Matters. He travels regularly for mentoring, speaking and training engagements but is based in Sydney, Australia, where he resides with his wife and adult family.